Frustration mounts on US Gulf Coast over drilling halt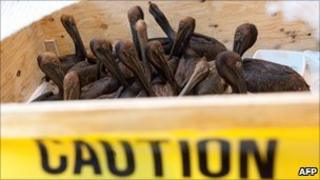 In communities across the US Gulf Coast, frustration is growing that people are unable to get back to work drilling for oil following the BP spill disaster, says the BBC's Andy Gallacher in the town of Buras, Louisiana.
BP is trying to restore its tarnished image here on the Gulf Coast.
Chief executive Tony Hayward, the man who wanted his life back, is gone, replaced by Bob Dudley, an American raised in the Gulf state of Mississippi.
But despite the company's best efforts, people in Louisiana shrug their shoulders when they talk about the transition of power.
Those who have lost their livelihoods do not care who is in charge of the clean-up, but the fact that Mr Hayward will be rich for the rest of his life leaves a bad taste in their mouths.
Briyton Knotts has three children and thinks he may soon lose his job as a rigger.
"He messed a lot of things up for a lot of people right now," he says of Mr Hayward. "I mean, he doesn't have a lot to complain about - he's getting a lot of money, so he's set for life."
But the talk here is not about BP's internal politics or its financial status, it is about oil and getting back to work.
People here feel quite differently to most of the rest of the US about drilling and oil.
Many oppose the moratorium imposed on offshore deep-water drilling by the Obama administration in the wake of the spill. After a court struck down that order as too broad, the government issued another, reworked ban earlier this month.
'Back to drilling'
Bill Butler runs the Venice Marina in Buras with his brother. Business is down about 70% on what he expected to see this year.
He says his biggest battle is against a perception that everything here is covered in oil when it is not.
"People come down here from California, they come down from New York and talk about how bad the oil is. My question to them is did your plane fly on solar power, does your car come from California using electric batteries? No it didn't."
Mr Butler is angry that media coverage has focused on what he calls the "doom and gloom" of America's worst environmental disaster.
His message and his opinion are similar to those of most people here and in the other Gulf states: Let's get back to drilling and back to work.
"The United States and the rest of the world is not ready for the birds and the bees, the flowers and the trees' power, you've still got to have resources," he says.
"If we were to cut the lines off, cut all the gas lines off for about a week or 10 days, you'll figure out who's going to do the screaming and then you'll figure out where it's coming from."
Resilience
There is a cultural divide here, a chasm over what to do about America's future plans for drilling in the Gulf of Mexico.
The Gulf states depend on oil.
Generations of families have worked the rigs or make their money indirectly from what is a huge industry and a huge employer.
Local fisherman Bo Haydo frames the situation in a very stark, and from his point of view, a very logical way.
"Airplanes crash - they don't say no-one can ever fly again. Planes crash and 200 people die and the next day people are flying again," he says.
"Everybody makes mistakes. It was a mistake and we need to move on and we will move on. But if there's a ban on drilling what are people supposed to do?"
Residents know the clean-up will take years but they are resilient.
Most made it through Hurricane Katrina in 2005 and recovered slowly and surely.
For them, the most frustrating thing about what President Barack Obama has called America's environmental 9/11 is that they cannot get back to the oil rigs and get to work drilling.