New Mexico weighs in on Arizona's immigration law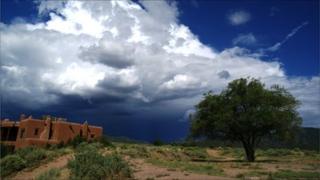 While one state attempts to introduce tough new law enforcement measures which critics condemn as unconstitutional and opening the door to racial profiling, the other continues to pursue some of the most permissive policies in the country.
In liberal Santa Fe, which this year celebrates the 400th anniversary of its founding as capital of the Spanish colony of New Mexico, people are quick to condemn Arizona's new legislation, the most controversial parts of which are now the subject of a court injunction.
"I think Arizona, under that governor and that legislature, went in the wrong direction," says Santa Fe Mayor David Coss.
"I think our traditions speak to what's been the best of American history about immigration. I think Arizona's speak to the worst."
New Mexico's long-established Hispanic population is the largest, proportionally, of any state - at 45% - and one of the most influential.
As a result, the state boasts two laws which make it easier for illegal immigrants to thrive.
Driver's licences - a valuable piece of identification - are readily available, while in-state tuition fees and lottery-funded scholarships are available for undocumented students.
'Sanctuary city'
Some cities go further. Santa Fe is one of dozens of so-called "sanctuary cities" across the country which do not report illegal immigrants to the federal government and allow them to benefit from city services.
Santa Fe even prevents immigration officials from entering its county jail, claiming the federal authorities racially profile inmates.
But events in neighbouring Arizona have cast a cloud over Santa Fe's celebrations.
Serving up delicious carnitas to rain-drenched visitors at Santa Fe's annual Spanish Market, Roque Garcia could barely contain his anger over the neighbouring state's controversial legislation.
"They call us wetbacks. We were here first," he splutters through the pungent smoke from his griddle. Mr Garcia can trace his New Mexican roots back for hundreds of years.
"The governor? Who the hell does she think she is?" he says, referring to Arizona's Republican Governor Jan Brewer.
"I think it's unconstitutional, prejudicial and racial," says his New York-born wife, Mona Cavalli. "And it's very dangerous for the rest of the United States."
Among New Mexico's illegal immigrants, the furious debate triggered by Arizona's new legislation is causing mounting unease.
Since being smuggled across the border by a "coyote" - or people-smuggler - 20 years ago, Erasmo (who asked the BBC not to use his family name) has flourished in New Mexico.
With a beautiful house and well-educated children, he has much to be proud of, despite remaining illegal all these years. He and his brother, a US citizen, run a successful construction business.
But he's looking over his shoulder.
"I not feel safe to travel in other states," he says. "Especially now with the new laws [in Arizona]."
Erasmo says he and his wife dream of one day becoming citizens, like their children, who were both born here.
"I love this country," he says. "We have a lot more opportunities here."
But that can only come through some form of comprehensive immigration reform, which remains a distant prospect.
Deportation increases
Immigrant support groups report a steep rise in deportations in New Mexico, part of a wider crackdown by the Obama administration.
Across the country, the Immigration and Customs Enforcement agency, commonly - and sometimes chillingly - referred to as ICE, is expected to deport as many as 400,000 people this year, a rise of 25% since 2007.
"People are anxious about separating their families, about police abuses," says Maria Christina Lopez, of Somos Un Pueblo Unido, a Santa Fe immigrants' rights organisation founded in 1995.
"Because people don't have all those documents, they're very vulnerable to abuses."
But not everyone thinks the state is being too hard on its undocumented immigrant population.
Keith Gardner, the Republican minority whip in New Mexico's House of Representatives, has serious reservations about his state's approach.
"It defies logic to me that that we would... motivate people to come into our state and our country illegally," says Mr Gardner.
His district includes the city of Roswell, famous for a rather different kind of alien. Popular belief has it that a flying saucer crash-landed near here in the summer of 1947.
Main Street is a tacky homage to all things extra-terrestrial, while a cryptic sign hangs above an abandoned diner now being used by Republican Party field activists.
"Remember, only you can prevent mass hysteria."
But Mr Gardner doesn't think it is hysterical to believe that something must change.
"The Feds want to deal with all the issues they're not supposed to," he says, referring to healthcare reform, "and they don't want to deal with the issues which they are supposed to."
Mr Gardner believes that New Mexico should repeal its laws and concentrate on securing the border, a view shared by at least one prominent Hispanic politician, Susanna Martinez, the Republican Party's candidate for governor in this November's mid-term elections.
In a feisty campaign advert, she pledges to deal with border security and end the practice of giving driver's licences to illegal immigrants.
"As governor, that will change," she says.
The Republicans believe this robust approach to immigration will appeal to plenty of Hispanic conservatives.
Disillusioned voters
But a bigger threat to the Democrats, right across the country, is that this powerful voting bloc may be too disillusioned to vote in the mid-term elections.
"Hispanics are frustrated, because we were promised comprehensive immigration reform," says Ralph Arrellanes, New Mexico state director for LULAC, the oldest Hispanic organisation in the country.
Mr Arrellanes says Hispanic voters, two-thirds of whom voted for Barack Obama in 2008, will be harder to mobilise this time.
"People aren't seeing the kinds of things they were excited about when they voted for him," he says.
When it comes to immigration, Arizona and New Mexico make strange neighbours.
Images by Paul Adams.