President Obama appears on daytime talk show The View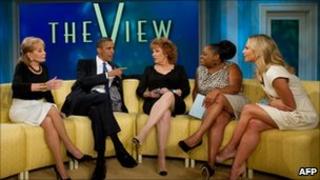 US President Barack Obama is to appear on daytime talk show The View, where he reflected on challenges he has faced.
The show, in which Mr Obama was asked about the Gulf of Mexico oil spill and the economy, was filmed on Wednesday and will air on Thursday.
The network said it was the first appearance by a sitting US president on a daytime TV chat show.
The View co-host Barbara Walters returned to the show for the first time since her open heart surgery in May.
"Look, I was trying to find a show that [First Lady] Michelle[(Obama] actually watched, and so I thought this is it, right here," Mr Obama said jokingly.
'Tough stretch'
Asked about some of the challenges he had faced during the past 20 months, Mr Obama said they included a failing economy, two wars, the Gulf oil spill and the swine flu pandemic, as well as "a host of other issues".
"Obviously the country has gone through a tough stretch since I took office," he said.
But the president also cited a few days spent in the US state of Maine with his wife and two daughters, hiking and cycling, as a recent highlight.
Walters touted the visit by Mr Obama in a statement on Wednesday.
"This shows that both the president and first lady feel that our show is an influential and important source of information and news," she said.
Walters, 80, added that she would return to the show full-time in September.
Michelle Obama appeared as a co-host on the show in June 2008, while her husband made an appearance in March that year during his campaign for the US presidency.
The View features interviews with star guests by hosts including Walters, Whoopi Goldberg and comedienne Joy Behar.
In March last year, Mr Obama became the first sitting president to appear on a late-night talk programme on The Tonight Show with Jay Leno.