'Up to 6,600 graves mislabelled' at Arlington Cemetery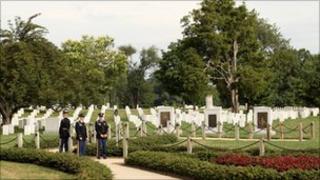 As many as 6,600 graves at the main US military cemetery were mislabelled or unmarked because of incompetence among cemetery managers, a US senator says.
Senator Claire McCaskill was speaking at a hearing into contracting problems at Arlington National Cemetery.
US investigators have put the problems down in part to a poor relationship between two top administrators.
But the former cemetery head said his staffing levels were slashed, forcing him to rely on contract employees.
In testimony before an ad hoc panel on problems at Arlington, former cemetery Superintendent Metzler expressed his "sincere regrets to the families" affected by the mislabelling and said he accepted "full responsibility" for the mix-up of graves.
"I was not happy with the way the system worked," said Mr Metzler, who ran the cemetery for 19 years. "I had virtually no control over anything that was going on with contracting."
Also present at the hearing was Thurman Higginbotham, who was deputy superintendent to Mr Metzler.
Investigators have said frosty relations between the two men hampered operations at the cemetery, with each giving occasionally conflict directions through their respective channels.
Mr Higginbotham declined to answer several questions, asserting his constitutional right against self-incrimination.
'Not complicated'
Ms McCaskill, a Missouri Democrat, has accused Mr Metzler of not reporting problems with burials such as unmarked graves, and said he should have brought resource problems to Congress or up his chain of command.
"This is not about a lack of resources, this is not about you have a complicated job," she said. "It's called keeping track of who you bury where. That is not a complicated task."
Roughly 330,000 people, mostly US military personnel, are buried at the cemetery just outside of Washington.
Of those, 110,000 were buried in the last 19 years as US veterans of World War II and the Korean war grow old, and the US has fought wars in the Persian Gulf, Iraq and Afghanistan.
Roughly 30 funerals per day occur at the cemetery.
The estimate of graves that could be mislabelled or unmarked is markedly higher than an estimate released last month by Army investigators, who said roughly 211 remains were affected.
Among the problems identified by senators at the hearing was outdated information technology.
Senator Scott Brown, a Massachusetts Republican, noted that many cemetery records were kept on paper cards.