Defiant protesters challenge Arizona migrant law
By Rajesh Mirchandani
BBC News, Phoenix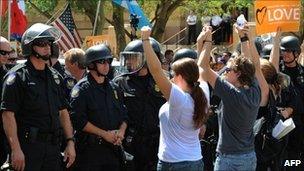 Hundreds converged on the centre of Phoenix for a noisy protest against Arizona's new immigration law.
Even though the most controversial parts of the bill have been blocked by a judge, their anger was directed at the entire bill and those who support it.
Outside the Phoenix offices of the local hardline Sheriff Joe Arpaio, three people stood in the middle of the street with their arms in the air.
Facing them, a line of police wearing helmets with visors held their line, stony-faced. They were surrounded by other protesters, more police and media crews.
Then officers approached the three and, one by one, tied their hands behind their backs with plastic restraints and walked them away to police vans. They didn't resist.
Another six people took their place in the street, the line of police advanced, the protesters held their positions. One by one, they too were arrested and taken away.
Those arrested included men and women, both young and old. This deliberate provocation continued and so did the arrests. Dozens were detained.
People chanted slogans such as "Arrest Arpaio, not the people" and, in Spanish, "What do we want? Justice! When do we want it? Now!"
The protest was peaceful, a display of civil disobedience, but there was some jostling and pushing as police tried to clear the roadway of protesters and media.
When the road was clear, one young man remained alone in the street, holding a sign that read "Alto racism": Stop racism. He looked terrified.
A plainclothes officer stood speaking quietly to the man, his face very close.
The young man repeatedly shook his head, then his lip trembled and he started to cry openly. We went up to him and a crowd pressed around us.
He told me his name was Mark Williamson, that he was 21 and that he would not get out of the road because, he said: "My friends are being deported and people are dying trying to cross the desert just for a better life."
I asked him if he was prepared to get arrested and he nodded, through his sobs. Later I saw him, handcuffed, waiting to get into a police van.
But they are largely out of step with public opinion: most Americans support tough immigration laws.
Politicians too are watching: about 20 other states are considering similar legislation. Now they will also be wondering if they can risk similar scenes in their states in an election year.
"They should see this," demonstrator Daniel Carrillo told me. He had travelled from Los Angeles and was waving a large Mexican flag.
"This will happen in their states also. You see people came from all over the state and all over the country. People came from California, Texas, Minneapolis, New York, here to fight this.
"And those people are going to go to the other states too. We're going to raise a ruckus."