Canada pig farmer denied retrial in serial killings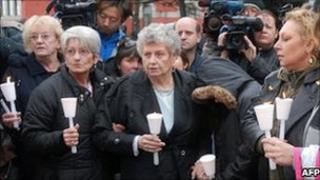 The Canadian Supreme Court has rejected a request for a new trial from a pig farmer convicted of killing six women
The court ruled unanimously that Robert Pickton, found guilty of killing and butchering six Vancouver sex workers, had received a fair trial in 2007.
He had appealed against the verdict, arguing the judge's final instructions to the jury precluded a fair trial.
The ruling suggests prosecutors will not try Pickton over an additional 20 killings of which he is accused.
The women's butchered and frozen body parts had been found in outbuildings on Pickton's property in Port Coquitlam, British Columbia, prosecutors said during the trial.
The 11-month trial followed the largest serial killer investigation in Canadian history.
Prosecutors said that over a four-year period, Pickton had killed Sereena Abotsway, Mona Wilson, Andrea Joesbury, Georgina Papin, Marnie Frey and Brenda Wolfe.
Pickton, 60, was convicted of six counts of second-degree murder and sentenced to life in prison without the possibility of parole for at least 25 years.
In his appeal, Pickton argued that Crown prosecutors presented evidence he acted alone in the six killings. But toward the end of the trial the judge said he could be convicted if jurors found he had killed the women "or was otherwise an active participant" in the killings.
Last year, a British Columbia appellate court ruled he should not have a new trial. On Friday, the Canadian Supreme Court agreed, finding the jury instructions were proper.
"There is nothing wrong, particularly in complex or lengthy trials, with the trial judge and counsel's narrowing the issues for the jury by focusing on what is actually and realistically at issue in the case, provided that, at the end of the day, the jury is given the necessary instructions to arrive at a just and proper verdict," Justice Louise Charron wrote.