Charlie Rangel's ethics trial poses problems for Democrats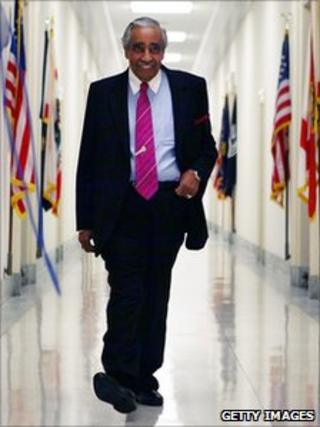 Corruption allegations levelled at Democratic Congressman Charlie Rangel bring difficult ethics issues into full view not long before an election. Will the shadow over Mr Rangel extend to his peers?
When Democrats seized control of Congress in 2006, it was off the back of Speaker Nancy Pelosi's promise to "drain the swamp" of ethical malfeasance that she claimed festered under Republican rule.
Mrs Pelosi convincingly inveighed against a Republican "culture of corruption", promising that she would commence cleaning house the moment she grasped the Speaker's gavel.
Now, as many congressional Democrats face grim prospects in November's mid-term elections, one man is bringing ethics problems screaming back into the headlines: Democratic Representative Charles Rangel of Harlem.
Mr Rangel, 80, has been charged with 13 counts of violating the ethical rules of the House of Representatives.
The panel overseeing an investigation into Mr Rangel's financial affairs offered him the chance for a settlement, but the unapologetic congressman declined, preferring to protest his innocence at a trial.
That trial before an ethics panel - the first of its kind since 2002 - will probably take place in September, focusing an uncomfortable spotlight on Democratic behaviour just weeks before an election.
With the November mid-terms looming, Republicans will surely attempt to make the trial into a larger issue about Democratic propriety.
But for Mr Rangel, who has been in office for almost four decades, the election is the least of his concerns.
Trailblazer
Mr Rangel is a larger-than-life character, known for his penchant for dramatic suits and bright ties. He's been called the Lion of Harlem.
He won a purple heart in the Korean War, at which time he hadn't even finished high school. With the assistance of America's GI Bill, he put himself through college and law school.
His distinctively gravelly voice is unmistakable on Capitol Hill, often used in the service of unvarnished or colourful remarks. He's widely liked by his peers, and considered to be a friend of Mrs Pelosi.
From the beginning of 2007 until March this year, Mr Rangel held the coveted position of chairman of the powerful Ways and Means Committee, granting him a broad sphere of influence in both Congress and business.
(He took leave of that position after an investigation revealed that he had allowed corporations to pay for trips to the Caribbean.)
He was the first African American to hold that chair - one of the many moments of his career that have contributed to his reputation as a trailblazer for other black politicians.
In the early 1980s, the congressman was arrested for protesting against apartheid outside the South African consulate in New York. He later championed a reportedly effective anti-apartheid sanction, "the Rangel amendment", which barred companies operating in South Africa from receiving foreign tax credits.
Now his long career is tarnished by his allegedly questionable financial dealings.
Career ender?
Mr Rangel is accused of failing to report $600,000 income, not paying taxes on a property in the Dominican Republic and improperly using a rent-controlled apartment in New York as a campaign office.
He also allegedly solicited donations for the Charles B Rangel Center for Public Policy at the City College of New York from companies who were being investigated by his committee.
Mr Rangel intends to defend himself against the charges. His legal counsel issued a statement declaring that "the congressman did not abuse his official position or enrich himself financially".
Regardless of the outcome of Mr Rangel's trial, he is unlikely to be voted out of office.
Mr Rangel's district is overwhelmingly Democratic, and his primary challengers are woefully under-funded by comparison.
A familiar sight of the streets of Harlem, Mr Rangel remains popular with his constituents, and has collected a healthy stable of political allies in the district over his decades of public life.
But many of his Democratic counterparts face a much more uncertain future. Mr Rangel's ethical quandary may contribute to a growing backlash against Democratic lawmakers.
Still, Mrs Pelosi remains upbeat. "Drain the swamp we did, as this was a terrible place," she told the New York Times. "We made a tremendous difference, and I take great pride in that."
But when draining the swamp means going after one of her own, implicating her party and her friend in the sort of behaviour she claimed to reject, it makes for prickly politics.