Canadian jets intercept Russian bombers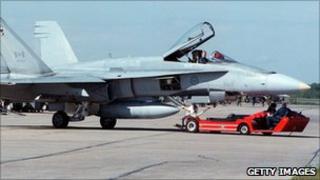 Canadian CF-18 fighter jets were dispatched to intercept Russian bombers as they skirted Canadian airspace by the Arctic, the defence ministry says.
The bombers, which sometimes fly near Canada, were dispersed, officials said.
Russian officials said the flight was a training exercise and the TU-95 bombers did not "violate" Canadian airspace.
Canada's Liberal Party said the government's response was appropriate, given Russia's attempts to claim sovereignty over Arctic territories.
A Canadian defence ministry spokesman said the bombers had been found 250 nautical miles (463km) from Goose Bay in the province of Newfoundland, "in waters in a Canadian buffer zone".
"We haven't violated Canadian airspace," an official at Russia's embassy in Ottawa told the Globe and Mail newspaper. "There is no problem here."
Meanwhile, Canadian Parliament member Marc Garneau claimed the Conservative government was using the episode to justify its intentions to purchase new Canadian fighter jets at a price tag of $16bn (£9.9bn), according to local media.