Iowa town pays price of war service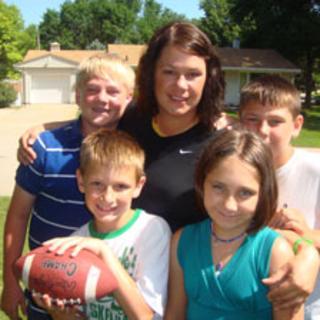 On 1 August, Iowa is to send nearly 3,000 National Guard soldiers to Afghanistan. It is the biggest deployment of the state's troops since World War II. The BBC's Zoe Conway reports from the town of Red Oak, which is no stranger to sacrifice.
Specialist Christine Morrison of the Iowa National Guard at Red Oak begins her journey to Afghanistan - via training in Mississippi and California - this weekend.
The 34-year-old is hopeful that her year-long deployment, during which time she will organise the movement of troops and equipment, will help bring freedom to the country and help liberate women.
"There's this bigger picture there," she said. "I want to help. Where we're going these people don't have freedom... Even the females, it's back to the early 20th Century, they don't want females to be highly educated."
This will be Spc Morrison's very first time in a war zone.
And it will be daunting for another reason - never before has she been separated from her three young sons and stepdaughter for this long.
She does not know when she will see them again - in fact, all she does know is that for the next 12 months she will be missing out on family life.
"I'll miss my oldest son's first day of high school, football games, basketball, birthdays…"
As she recited the list of upcoming family events, she broke down in tears.
Of course, Spc Morrison is not the only one making a sacrifice - her children are too. I asked her how she justifies her deployment to them.
"That's a very good question... is it worth it? And I hope that when I come home in a year that I can say absolutely it was... that I made a difference or we made a difference."
High price
This is the seventh time Red Oak has sent its citizens into combat since the Civil War.
It has paid a high price for that willingness to serve. With a population of just 6,000, this small prairie town lost more men per capita in World War II than any other town in America.
On a single night in 1943, 23 telegrams were received by families telling them that their boys were missing in North Africa.
In a Life Magazine article about the town, an aerial photograph pinpointed the households that were gripped with dread as they waited to find out what had happened to their sons.
One such family was the Diehls. It was several days before they were told that 22-year-old Elwin Diehl had been captured.
He spent 27 months as a prisoner of war. He says he and his fellow prisoners "just existed, that's about all". All they could do, he said, was "try to live from daylight till dark, and then you was hungry all the time".
He meets his old comrades at Red Oak's Court of Honour. It is the place where more than 1,000 flags commemorating the town's fallen are kept.
Every Memorial Day, the Court hangs the flags in the cemetery.
On the wall is a picture of Elwin Diehl and his Company M comrades. Fifty-seven Red Oak soldiers never came home from World War II.
Mr Diehl admits that, back then, he was excited to be going to fight and didn't really understand what they were fighting for. But he sounds even less clear today about why America is in Afghanistan.
"That's a hard subject for me to talk about because it seems to me like we're sticking our nose in everybody else's business trying to run the world.
"We're involved in something there now that, I don't know what the outcome's going to be and I don't think anybody else does."
Nonetheless, ask the people of Red Oak about their commitment to military service and two words tend to be spoken most: "values" and "community".
Red Oak has some critics of the war in Afghanistan, but the overwhelming feeling encountered here is pride in the town's military past - and a willingness to continue to serve long in to the future.