Cross-border killings make small Texan town edgy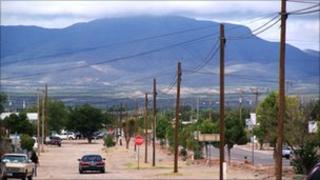 Despite its name, Ft Hancock would rather not see itself as a watchful frontier garrison.
"We have all kinds of races and religions, right here on the border," says farmer Gail Carr, tucking into breakfast at Angie's Diner, where locals congregate several times a day.
"It is a border culture... and we're happy with it."
But that culture, along this stretch of the Mexican border, east of El Paso, is being tested by horrific events taking place on the other side.
"We just wish they weren't killing so many people on the other side to where we have to worry about security like this," says Mr Carr.
Barely two miles from this sleepy Texan town, its Mexican neighbour, Porvenir, is being torn apart by drug-related violence.
Gruesome murders are taking place throughout the valley towards Juarez. Earlier this year, one drug cartel warned the people of Porvenir to leave town or face the consequences.
Relatives in Ft Hancock look on with dismay.
"My brother-in-law, that got kidnapped in December, I think he's dead," says a woman who asks to be called Maria.
Her bright eyed, mischievous eight-year-old daughter - I'll call her Marta - says her classmates from across the river have stories to tell.
Red crayon
"The assassins are killing and Porvenir is becoming empty," she whispers.
Along Knox Ave, in the middle of town, Dee Torres says the children she teaches at Benito Martinez Elementary draw vivid pictures, full of dead stick figures, men with machine guns, and blood.
"It's usually just pencil and red crayon," she says. "A lot of red crayon."
There are graphic diaries too.
"I read a little girl's journal that said 'my aunt was killed and they left her inside the wood pile'," Mrs Torres recalls.
She says the children can be remarkably matter of fact.
"So-and-so got killed. So-and-so's eyes got poked out. And to them it's, like, 'OK, it happened'."
But in a day and a half in Ft Hancock, the BBC found many people unwilling or afraid to talk.
Some have relatives on the Mexican side of the fence. Others continue to commute across the border, weekly and even daily.
Some have fled altogether and now eke out a meagre but relatively secure existence in mobile homes and ramshackle houses on the fly-blown fringes of town.
It is not just the living who are seeking sanctuary in Ft Hancock.
A handful of Mexicans killed in the violence have been buried in the cemetery on Tomasini St, where elaborate plastic bouquets provide splashes of vivid colour against the dusty ground and slender cypress trees that mark the boundary.
It has become too dangerous to bury the dead in Porvenir, according to Jose Sierra, Ft Hancock's constable.
In one of many signs that illicit activity is taking place in town, Mr Sierra points to a child's grave that was recently used to store bundles of marijuana.
"Not even a gravesite is being respected," he says.
On a tour of Ft Hancock's streets, most of which are unpaved, Mr Sierra points to two smarter homes, one sporting security cameras, another with a shiny 18-wheeler truck parked outside.
"The element moves freely in the community, but they're keeping it low key," he says.
Just beyond the eastern fringes of town, on a scrubby stretch of land between Route 20 and the rust-red girders of the fence, a rudimentary racetrack, complete with railings and a starting gate, also has the constable worried.
Some weekends, hundreds of people gather here to "exercise" their horses. Events attract participants from near and far, including some who arrive, on horseback, from across the Rio Grande.
"We have our speculations that it's a gathering place for exchange of information, exchange of... narcotics," Mr Sierra says.
The track is on private land. In the absence of hard information and lacking law-enforcement resources, Mr Sierra says it is almost impossible to investigate.
Real danger
Concerns about potential security threats emanating from across the border have led the local school district to take precautions.
Surveillance cameras have been mounted on the town's high school, which sits barely half a mile from the fence.
"They say that if you're not involved, you've nothing to fear," says School District Superintendent Jose Franco. "But my fear is that bystanders... might become victims of the violence."
It seems the danger is far from theoretical. Mr Franco pushed to have the cameras installed after a student's mother was strangled last year.
"We know, because of intel, that families are involved in this activity," he says, "and they do have their children in our school district."
The border crossing itself, with its customs post and brand new Border Patrol HQ, looks like a proper international frontier.
One of its two imposing steel entrances has been nicknamed "The Jurassic Park gate", hinting at the dangers that lurk beyond.
But this stretch of the fence only runs a few miles east and west of Ft Hancock before ending abruptly in the desert.
As if to emphasise its absurdity, a metal footbridge - narrow but unguarded - spans the Rio Grande a few miles to the west.
Local farmers do not tend to speak of personal danger, despite being warned to "arm yourselves" by Hudspeth County Sheriff Arvin West, at a meeting earlier this year.
But they do scoff at the fence and what they regard as half-hearted efforts by Border Patrol agents to secure the border.
"Get on the border and stop illegals from coming in, and the drugs," says Jim Miller, who describes himself as a "dumb dirt farmer from Ft Hancock".
"Turn off the tap before you mop the floor."
Despite pledges of additional federal resources, there is little sign the tap will be turned off anytime soon.
Constable Sierra worries the violence will eventually reach Ft Hancock.
"It's just a matter of time," he says.