Chelsea Clinton marries Marc Mezvinsky on elite estate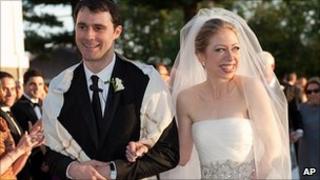 The daughter of former US President Bill Clinton and Secretary of State Hillary Clinton has married her long-term boyfriend at a lavish ceremony.
Chelsea Clinton and investment banker Marc Mezvinsky were married at the Astor Courts estate in New York state.
Her parents said they felt "great pride and overwhelming emotion" at seeing their daughter married.
A no-fly zone was in place above the Hudson valley and nearby roads were closed as guests arrived in limousines.
The television star, Oprah Winfrey, film director Steven Spielberg, Hollywood actor Tom Hanks and singer Barbra Streisand are reportedly among the 500 guests.
In a statement released to confirm that the wedding had taken place on Saturday evening, Bill and Hillary Clinton said:
"We could not have asked for a more perfect day to celebrate the beginning of their life together, and we are so happy to welcome Marc into our family.
"On behalf of the newlyweds, we want to give special thanks to the people of Rhinebeck for welcoming us and to everyone for their well-wishes on this special day."
Earlier, actors Ted Danson and his wife Mary Steenburgen told reporters in the town of Rhinebeck, where many of those invited are staying, that they were both excited about attending the ceremony.
"I knew her since she was a baby so this is a big moment," Steenburgen said. "She's a lovely, lovely girl."
The wedding was expected to cost between $2m (£1.3m) and $3m (£1.9m), experts told the Associated Press.
Shopkeepers, innkeepers, retailers and caterers in Rhinebeck have been sworn to secrecy about the event and inconvenienced local residents have been offered complimentary bottles of wine.
'We love it here'
On Friday evening, hundreds of people gathered in Rhinebeck cheered when Bill and Hillary Clinton arrived at the Beekman Arms Hotel.
Earlier in the day, Mr Clinton, looking fit and relaxed, had lunch in one of the town's restaurants.
He took time afterwards to shake hands with kitchen staff and customers before emerging to an enthusiastic crowd of hundreds of people who shouted "Congratulations!" and "We love you!".
"We love it here," he told reporters. "Chelsea loves the area as well."
Asked about his future son-in-law, he said: "I like him very much. I really do. I admire him. Hillary feels the same way."
Chelsea Clinton, 30, is a Methodist Christian while Marc Mezvinsky, 32, is Jewish. He is the son of former US House of Representatives Marjorie Margolies-Mezvinsky of Pennsylvania and Ed Mezvinsky of Iowa, longtime friends of the Clintons.
The couple were friends as teenagers in Washington and both attended Stanford University. They now live in New York, where Mr Mezvinsky works at the hedge fund, G3 Capital.