No survivors in Canada fire-bomber crash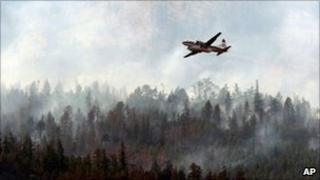 A water-bomber plane fighting forest fires in western Canada has crashed, killing the two pilots and igniting another fire.
The fire prevented rescue crews from reaching the wreckage, in the interior of the province of British Columbia.
BC has called in firefighters from other provinces to help with a recent outburst of wildfires.
Tinder-dry conditions have led authorities to issue a warning of "extreme" fire danger.
More than 350 fires were burning across the province on the weekend, with the largest, near the BC-Yukon border, covering about 39 sq miles (100 sq km).
Most of them started in the past few days, officials said.
"The fire danger rating for most of British Columbia is high to extreme, and weather forecasters are not expecting it to improve any time soon," the BC Ministry of Forests said.
About 250 firefighters with additional aircraft have been brought into BC from Alberta and Ontario to help crews fight the blazes.
'Dedicated individuals'
The water-bombing Buffalo airplane crashed on Saturday evening about 100 miles (160km) north-east of Vancouver, near the small town of Lytton.
"There were no survivors from the accident," said air operator spokesman Rick Pedersen.
The fire the crash ignited burned all night, preventing rescue crews from reaching the wreckage.
A second plane was shadowing the Buffalo. A spokesman for Canada's Transportation Safety Board said the crew may be able to help with the investigation into the crash.
Witnesses on the ground also saw the crash, said Royal Canadian Mounted Police Cpl Dan Moskaluk. He also praised the work of the firefighting air crews.
"These individuals that carry out these flying duties are a very dedicated and committed group of individuals, very passionate about their work," he said.