Nine dead in Connecticut workplace gun rampage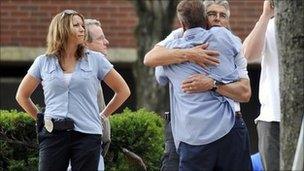 A worker at a Connecticut beer distributor shot eight co-workers dead and wounded at least two others before killing himself.
Officials said the gunman had been caught on video stealing from the company and was to be sacked.
The shooting occurred at Hartford Distributors in Manchester, about 10 miles (16km) east of Hartford.
The shooter was identified as Omar Thornton, 34, a recently-hired driver for the company.
Two injured people were taken to a local hospital and were "expected to survive", a police statement added.
Manchester Police Chief Marc Montminy said that in a meeting with management and union representatives, Mr Thornton was told he could resign from the company or be sacked.
Mr Montminy said the shots had begun as Mr Thornton was being escorted from the building, the Hartford Courant newspaper reported.
"He was being brought in to look at a videotape about what was going on," Teamsters union official Christopher Roos told the New York Times newspaper.
"That was it. He was going to be asked questions. This is what happened afterwards."
The incident happened on Tuesday morning as workers were changing shifts.
Bret Hollander, an executive at the company, which is owned by his family, said 50 to 70 people were inside the building at the time.
Related Internet Links
The BBC is not responsible for the content of external sites.