BP finishes cementing damaged Gulf of Mexico oil well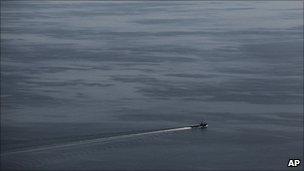 BP has finished pumping cement into the top of its damaged Gulf of Mexico oil well as part of its "static kill" procedure.
The move comes the day after it was announced that almost three-quarters of the oil spilled had been broken down by natural forces or cleaned up.
Oil leaked into the Gulf from 20 April when the Deepwater Horizon rig explosion killed 11 workers. The flow was stopped on 15 July.
Work on a relief well can now continue.
Cementing through the top of the well is complementary to a "bottom kill" that will be carried out soon.
The cementing of the well "will virtually assure that there will be no chance of oil leaking into the environment", US oil spill response commander Thad Allen told reporters.
The relief well is about 100ft (30m) from intersecting with the damaged well. It will then be killed with mud and cement from the bottom.
A government report has said only a quarter of the oil from the BP well remains and that it is "degrading quickly".
The majority has been captured, burned off or evaporated, it states. But more clean-up is necessary, officials warn.
Meanwhile, US President Barack Obama said on Wednesday he was pleased that the operation in the Gulf was "finally close to coming to an end".
"Our recovery efforts, though, will continue. We have to reverse the damage that's been done," he said.
The report on the fate of the spilt oil was compiled by 25 of "the best government and independent scientists", the National Oceanic and Atmosphere Administration (NOAA) said.
About a quarter of the oil released by the well evaporated or dissolved in the Gulf in the same way sugar dissolves in water, federal officials said.
Another one-sixth naturally dispersed when leaking out of the well, and an additional one-sixth was burned, skimmed, or dispersed using chemicals.
At a news conference, NOAA administrator Dr Jane Lubchenco said degraded oil was not a threat any longer because "when it is biodegraded it ends up being water and carbon dioxide so if it has been biodegraded, if it is gone, then it is not a threat".
However, nearly 53m gallons (200m litres) of oil remain in Gulf waters, which is close to five times the amount of the 11m-gallon Exxon Valdez spill in 1989.
An estimated 4.9m barrels of oil leaked into the waters of the Gulf during 87 days, with only 800,000 barrels being captured.
Related Internet Links
The BBC is not responsible for the content of external sites.