Al-Qaeda in Pakistan is top threat, says US report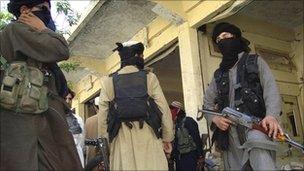 Al-Qaeda's leadership in Pakistan and its affiliates in Africa remain the biggest threats to US and its interests abroad, a US government report says.
The annual terrorism report states that al-Qaeda encountered setbacks in 2009 but has proved to be "resilient and adaptable".
Iran was said to be the most active "state sponsor" of terrorism, as with previous years.
But attacks globally fell to the lowest level in five years, it said.
The report identified Pakistan and Yemen as of particular risk and said al-Qaeda had been able to create proxy groups, and managed to recruit citizens in the US and Europe, for attacks across the world.
Al-Qaeda "has proven to be an adaptable and resilient terrorist group whose desire to attack the United States and U.S. interests abroad remains strong," it said.
But it added that the organisation had suffered a backlash after its members and allies had launched attacks on Muslims in a number of countries.
The report says that the failed 25 December bombing - in which a Nigerian influenced by a radical Yemeni cleric attempted to blow up a plane heading for Detroit - underscored the threat posed by al-Qaeda in the Arabian Pensinsula (AQAB).
The group is the result of a merger between the Yemeni and Saudi branches of al-Qaeda.
It also noted that al-Qaeda in the Islamic Maghreb (AQIM) had increased the number of kidnappings in Mauritania, Niger and Mali, where the group recently killed French tourist Michel Germaneau.
Militant group Al-Shabab in Somalia was also highlighted, being identified as "more of an ally than a full-blown affiliate" of al-Qaeda.
In 2009, a total of 14,971 people died in 10,999 different terrorist attacks around the world, the report says, down from a recent high in 2006, when 22,736 died in 14,443 attacks.
The figures represent a decrease of 6% in attacks and 5% in the number of deaths globally.
But attacks in Pakistan's Khyber-Pakhtunkhwa province (formerly known as the North West Frontier Province) increased from 16 in 2005 to 940 in 2009, said Russ Travers, deputy director of the National Counterterrorism Center.
The report identified Iran, Cuba, Syria and Sudan as state sponsors of terrorism - unchanged from previous years.