Air Canada repairs wheelchair 'after Twitter pressure'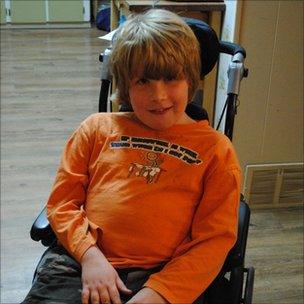 Pressure from Twitter users has made Air Canada fix a terminally ill boy's wheelchair after it was damaged during a flight, his family has said.
Appeals for help from the aunt of 10-year-old Tanner Bawn went viral on the micro-blogging website.
An airline spokesman said they had acted as soon as they had heard about it. It has now promised to send the boy to Disney World.
Tanner has Duchenne muscular dystrophy and is immobile without the chair.
Tanner Bawn's $15,000 (£9,300) wheelchair arrived at New York's La Guardia Airport in pieces, during a trip to the city for a charity run.
Mr Bawn along with his mother and aunt, who were waiting in a hotel room in Manhattan for 24 hours, were said to be ecstatic after users of the micro-blogging site helped grab the attention of the airline.
The airline is reported to have contacted an overnight repair centre after hearing about the boy's problems from other Twitter users and had the specialised chair returned to Tanner a day later.
"I'm impressed with how Air Canada has stepped up. But I'm still distressed that it took the internet shrieking loudly at them for it to happen," Mr Bawn's aunt, blogger Catherine Connors, told the Globe and Mail newspaper.
She added: "If my sister and Tanner had been here on their own with no blogging or without the vast social-media network to help them, it wouldn't have turned out this way."
Air Canada spokesman Peter Fitzpatrick said the airline had acted as soon as they had heard about the problem.
Tanner flew to New York City to participate in a walk-a-thon organised by his aunt to help raise money for a live-in carer in his home.
Air Canada has promised to make permanent repairs when the group returns home to Kamloops, British Columbia.
Related Internet Links
The BBC is not responsible for the content of external sites.