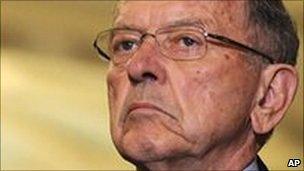 Former US Senator Ted Stevens, who has died in a plane crash in Alaska at the age of 86, was the US Senate's longest-serving Republican.
He first won his seat in 1968 and stepped down in January 2009.
Throughout this time he played a crucial role in shaping the economic and social development of Alaska, which only became a state in 1959.
He served six terms as senator for Alaska and to many he was simply Mr Alaska, Uncle Ted.
His bid for a seventh term in office was thrown into controversy when he was convicted of lying about gifts he had received from oil company Veco.
Analysts say the guilty verdict helped scupper his chances of winning re-election to the Senate in the 4 November 2008 election, although his conviction was later overturned because of mistakes made by prosecutors during his trial.
In 2000, Mr Stevens was named as Alaskan of the Century and the main international airport was renamed in his honour.
The plaudits were in response to the millions of dollars in federal aid and funding he has channelled towards his state during his long political career.
He once said: "The only special interest I care about is Alaska."
Citizens Against Government Waste, an independent watchdog, estimates that between 1995 and 2008 he managed to channel some $3.4bn (£1.8bn) Alaska's way.
But to his critics, Mr Stevens was the "King of Pork", managing to attach funds for his pet projects on to all manner of legislation.
Arguably his most controversial move came in 2005, when he pushed to get more than $200m (£107m) of federal earmarked to build Alaska's "bridge to nowhere", a project that was ultimately dropped.
During his long political career, Mr Stevens served on many Senate committees, including as chairman of the Committee on Commerce, Science and Transportation and the ethics, rules, and governmental affairs committees.
He served as president pro tem (pro tempore) of the Senate from 2003 to 2007, which put him third in line for the presidency.
Mr Stevens, as his effectiveness in securing funds highlighted, was a canny political operator, managing to negotiate with Republicans and Democrats alike to pass legislation important for his state.
He was a vocal advocate of opening up the Arctic National Wildlife Refuge, ANWR, to oil drilling, an increasingly controversial issue in the US.
In 2006, he was widely lampooned when he referred to the internet as "a series of tubes that get clogged" during a debate, a description that rapidly became a catchphrase on the web.
But in 2008, his image was tarnished by the Veco controversy.
Mr Stevens' bid to be returned to the Senate in the November 2008 election looked tough even before he was found guilty on 27 October of that year.
He lost out in a knife-edge race against Anchorage Mayor Mark Begich, giving the Senate its first Democratic representative from Alaska for 30 years.
In 1978, he survived a plane crash in which his first wife, Ann, was killed among others. His second wife, Catherine, was not on the plane that crashed on Tuesday.
Related Internet Links
The BBC is not responsible for the content of external sites.