Fugitive search moves to US-Canada border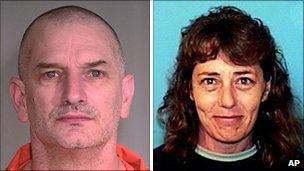 Security on both sides of the US-Canada border has tightened as police continue their hunt for an escaped prisoner and his alleged accomplice.
John McCluskey, convicted of attempted murder, broke out of an Arizona prison on 30 July. Officials say his fiancée, Casslyn Welch, aided his escape.
Authorities are now patrolling roads near Glacier National Park in Montana.
Officials say the pair see themselves as "Bonnie and Clyde" after the infamous 20th Century American outlaws.
Security officials at border crossings in Montana have begun scanning the faces of individuals in cars headed into Canada to see if they match descriptions of the fugitives.
"We're doing outbound checks at ports of entry to ensure any fugitive is unable to utilize that avenue of escape," Border Patrol spokesman Mike Milne told the Associated Press news agency.
There are many back roads and alternative ways for the pair to try to cross the border and authorities admit it is impossible to secure it completely.
Royal Canadian Mounted Police spokesman Sgt Patrick Webb said Canadian authorities had checked reports which claimed McCluskey and Ms Welch were sighted in the country. But so far investigators have come up empty handed.
"We've got zero. We've got nothing that says they're here," Sgt Webb said.
Officials in Arizona said the last confirmed sighting of the fugitives together was on Friday in Montana but the report was not confirmed until Monday.
US marshals said Ms Welch had been spotted on Monday at a restaurant in Saint Mary, Montana, 18 miles (28km) south of the Canadian border but did did not say whether McCluskey was also seen.
Another fugitive, who had escaped with McCluskey, was captured on Monday.
"These guys have the ability to get in the car and move relatively easily," said Fidencio Rivera, chief deputy US marshal for the Arizona district, according to the Associated Press news agency.
Officials say McCluskey and fellow inmates Tracy Province and Daniel Renwick escaped from Arizona State Prison after Ms Welch, who is also McCluskey's cousin, threw wire cutters over a jail fence.
Renwick was arrested on 1 August and Province was recaptured on Monday.
McCluskey, who had been convicted of attempted murder, aggravated assault and discharge of a firearm, was serving a 15-year prison sentence.