Wikileaks asked to edit Afghan names from US files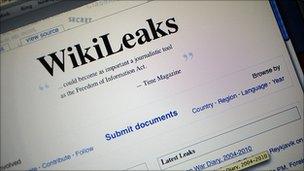 Human rights groups are putting pressure on the website Wikileaks to remove the names of Afghan civilians from leaked US military reports.
The groups, which include Amnesty International, say Afghans identified as suppliers of information to the US military could face reprisals.
The Taliban has executed hundreds of Afghan civilians it accuses of collaborating with US-led forces.
The huge cache of classified papers is one of the biggest leaks in US history.
All are linked to the Afghan conflict and Wikileaks posted them last month under the title of the Afghan War Diary.
The human rights groups also include the Afghan Independent Human Rights Commission, the Campaign for Innocent Victims in Conflict, the Open Society Institute and the International Crisis Group.
They have e-mailed their requests to Julian Assange, founder of the whistle-blowing website, AP news agency reported.
"There was no consideration about civilian lives," said Nader Nadery, of the commission.
"We said that in the future the names should be redacted and the ones that are already there need to be taken down. Even though it is late, it still worth doing."
He said he had not yet received any response to the requests.
The US condemned the Wikileaks disclosures as "irresponsible", saying their publication could threaten national security.
Afghan President Hamid Karzai said he was "shocked" at the scale of the leaks, but believed that most of the material was not new.
Mr Assange said at the time that Wikileaks had tried hard to ensure that the leaked documents did not put innocent people in danger.
"All the material is over seven months old so is of no current operational consequence, even though it may be of very significant investigative consequence," he said.
The documents covered the Afghan conflict from January 2004 to December 2009 and include previously unreported details of killings of civilians.
The records also reveal Nato concerns that Pakistan's ISI intelligence agency was helping the Taliban in Afghanistan, an accusation Islamabad has denied.
Related Internet Links
The BBC is not responsible for the content of external sites.