Karen Handel concedes Georgia governor's primary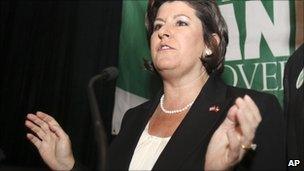 Karen Handel has conceded the Georgia Republican gubernatorial run-off race to Congressman Nathan Deal, after trailing by fewer than 2,500 votes.
Ms Handel called Mr Deal on Wednesday and released a statement expressing her support for his campaign.
Ms Handel was backed by Sarah Palin, while Mr Deal was endorsed by former presidential candidate Mike Huckabee.
Colorado Senator Michael Bennet has won the state's Democratic nomination for the November Senate election.
Mr Bennet was appointed to the seat in 2008 and was endorsed for election by President Barack Obama.
He beat former State Representative Andrew Romanoff, who had former President Bill Clinton's endorsement.
Political analysts are calling the Bennet victory a much needed spot of good news for the president, whose track record of backing failed candidates has led some to question his influence with Democratic voters.
Mr Bennet, former superintendent of the state school system in Denver, Colorado, fended off Mr Romanoff's aggressive anti-establishment campaign.
In another primary vote on Tuesday, Connecticut Republicans chose former professional wrestling executive Linda McMahon as the party's Senate candidate in November.
Ms McMahon spent $22m (£18m) of her own fortune on the contest, defeating Peter Schiff and Congressman Rob Simmons.
She will face Democratic Attorney General Richard Blumenthal in the race to succeed retiring Senator Chris Dodd.
Ms McMahon, former chief executive of World Wrestling Entertainment, won after blanketing the state's airwaves with advertisements. She campaigned as a political outsider and has vowed to spend up to $50m of her own money on the race.
At a victory rally, she decried what she described as out-of-control spending by the federal government, which she said was "suffocating our small businesses and... killing our jobs".
She asked Connecticut Republicans to unite behind her in the November election.
In Minnesota, former Senator Mark Dayton won the Democratic nomination for governor by a narrow margin.
He will run against state Representative Tom Emmer, who took the Republican nomination, in November. The Republicans have held the governor's office for the past eight years.