Police hunt for McCluskey and Welch expands to Arkansas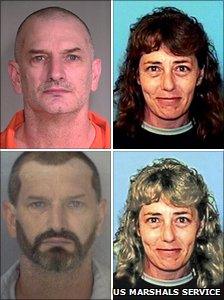 US police have expanded their hunt for an escaped prisoner and his alleged accomplice to Arkansas, 1,600 miles (2,575km) from the last reported sighting.
John McCluskey and Casslyn Welch, his fiancee, are suspected of robbing a beauty salon in Gentry, Arkansas.
Ms Welch was last seen on Sunday in a restaurant in Saint Mary, Montana.
McCluskey, jailed for attempted murder, fled an Arizona prison on 30 July. Ms Welch is accused of aiding his escape.
The US Marshals Service says McCluskey has grown a short beard and moustache, while Ms Welch has dyed her hair blonde.
A Marshals Service official cautioned that while the couple who robbed Kut and Curl beauty salon in Arkansas matched McCluskey's and Ms Welch's descriptions, they have yet to be positively linked to the scene.
"We are not taking our eyes off of some of the other leads that we were following in the north-west," Supervisory Deputy US Marshal Rich Tracy told the BBC by phone from Phoenix, Arizona.
"We are still concentrating our search in south-western Canada and Montana, but we definitely need to determine whether or not it was them in Gentry this morning."
The Associated Press reported that Ms Welch's mother lived near Gentry, a small town of about 3,000 in the north-west of the state, near the border with Missouri.
Officials have been searching both sides of the US-Canada border in recent days, believing McCluskey, 45, and Ms Welch, 44, to be hiding in Montana or southern Canada.
The international police agency Interpol added the pair to its fugitive list on Wednesday, distributing a notice to police in 188 countries.
"Members of the public are urged not to approach them, but instead to immediately report any sightings to their local police," said Jean-Michel Louboutin, Interpol's executive director of police services.
Officials say McCluskey and fellow inmates Tracy Province and Daniel Renwick escaped from Arizona State Prison in Kingman, Arizona, after Ms Welch, who is also McCluskey's cousin, threw wire cutters over a jail fence.
Renwick was arrested on 1 August and Province was recaptured on Monday.
McCluskey was serving a 15-year prison sentence after being convicted of attempted murder, aggravated assault and discharge of a firearm.
Related Internet Links
The BBC is not responsible for the content of external sites.