Four killed in Buffalo anniversary party shooting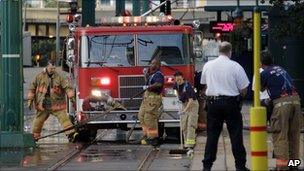 Four people have been shot dead after an argument at a wedding anniversary party in the city of Buffalo in New York state.
Shooting broke out as about 100 guests were leaving the City Grill restaurant in the early hours of Saturday.
Two men and two women were killed, and four more people were injured.
A 25-year-old man named as Keith Johnson was later arrested after a huge police operation and charged with four counts of second-degree murder.
The victims have not been named officially, but relatives of those killed have been speaking to local journalists.
Raymond Wilhite, who says his daughter Tiffany was killed, called it a "senseless" incident.
"This kind of thing just has to stop," he said.
"Her sister, her brother, could see her right here. When they lifted up the cover they could tell it was her they know by what she was wearing."
Witnesses said they believed some men had become angry after being refused entry to the party.
The restaurant's managers decided to close up when an argument broke out.
Chief of Detectives Dennis Richards said: "There were verbal things going on. Management apparently chose to close down and have everybody leave the restaurant.
"People were leaving when this shooting happened."
One of those killed was the man who was celebrating his first wedding anniversary. His wife escaped unharmed. The couple had apparently arrived from Texas to celebrate their anniversary.
"An occasion that should have been a joyous one, a happy one, turned to tragedy," Buffalo's mayor, Byron Brown, said at a news conference.
At least 50 emergency vehicles were sent to the scene of the incident, which was reported at 0230 local time (0730 GMT), local television station WKBW reported.
Tommy Dates, 35, of Buffalo, said he was in the restaurant's bar with friends when he noticed members of a party leaving the restaurant, but rushing back inside a few minutes later.
"A lot of people were real upset, just trying to get out of the way," he told local media.
"Nobody knows where anything was coming from. Everyone was in a panic."
The restaurant posted a messaged on its website saying it was "deeply saddened by the tragic events".
"We are co-operating fully with the authorities and the ongoing investigation. Our thoughts and prayers are with the victims and their families," the statement said.