Diana Dors sports car fetches $3m at auction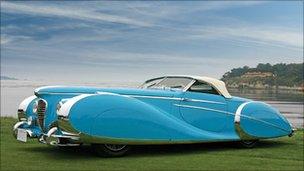 A sports car once owned by the late British actress Diana Dors has sold for $3 million (£1.9m) at a California auction.
The 1949 Delahaye Roadster, which some have dubbed the most beautiful car in the world, was given to Dors when she was 17.
The sky blue car has been described by auctioneers as "extravagant and outrageous - a rolling sculpture".
Dors, who was seen as the British Marilyn Monroe, died in 1984 aged 52.
Born Diana Mary Fluck, Dors became known as a 1950s blonde sex symbol, but was also well-respected for her acting skills.
RM auctioneers said the car was curvaceous, sexy and flamboyant, just like its former owner.
It was expected to sell for up to $6m but went for $3m plus a buyer's premium of 10%.
The car is one of only 150 Roadsters made, and only one of 51 of its specific model - the 175S.
The company stopped production in 1951 as it found there was little demand for such extravagance during that post-war period.
When Dors first received the car, she did not even have a driving licence.
At 20, she became the youngest owner of a Rolls-Royce in the UK - a reflection of her success at an early age.
After she died, the car changed ownership several times and has in recent years been restored to its former condition.
In its catalogue listing, RM Auctions says the Roadster - which has a top speed of 70mph - can "easily claim to being the most extravagant and beautiful coachbulit car in existence".
Related Internet Links
The BBC is not responsible for the content of external sites.