Tamil migrant 'buried at sea' during voyage to Canada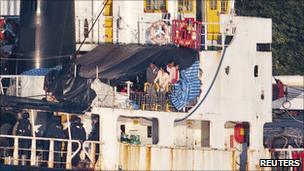 A Sri Lankan Tamil migrant died during a three-month voyage aboard a ship that landed in Canada last week.
Canadian officials have said a 37 year-old man died of illness aboard the MV Sun Sea about three weeks ago.
"He simply couldn't be treated at sea," a police official told CBC News. "There's nothing to indicate any criminal intent."
Immigration hearings for the roughly 450 refugees are expected to begin on Monday in Vancouver.
Canadian officials say they want to establish whether any of them are militants from the Tamil Tiger group, which Canada regards as a terrorist organisation.
The vessel set sail amid complaints of repression against members of the Tamil ethnic group, following last year's defeat of the Tamil Tiger rebels that ended Sri Lanka's 25-year long civil war.
The ship crossed the Pacific after being turned away in Australia.
Public Safety Minister Vic Toews said on Sunday the migrants had paid 50,000 Canadian dollars (£30,844) for the voyage.
He told the Globe and Mail newspaper officials were investigating whether Canadian residents had helped fund the voyage, a potential criminal offence.
The vessel, which reached Canadian waters on Friday and docked at a Naval base, was "extremely cramped" but clean, Rob Johnston, regional executive director at the Canada Border Services Agency, said on Saturday. He said the migrants were fed, in good spirits, and compliant with authorities.
Related Internet Links
The BBC is not responsible for the content of external sites.