US judge drops piracy charges against six Somali men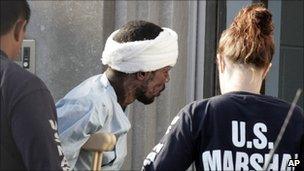 A US federal judge in Virginia has thrown out piracy charges against six Somalis accused of attacking a US Navy ship last spring off the coast of Africa.
Judge Raymond Jackson ruled the piracy charges should be dismissed because the group did not rob, board or take control of the USS Ashland.
Prosecutors accuse the six of opening fire on the ship in the Gulf of Aden.
The men still face seven other charges over the alleged 10 April attack.
The piracy charges, which would have carried a minimum penalty of life in prison if proven, were brought under a nearly 200-year-old statute in a courtroom in Norfolk, Virginia.
Prosecutors argued that any unauthorized armed attack or violent act on open waters should qualify as piracy.
But the judge ruled that broader acts like these fell outside the charges.
"The court finds that the government has failed to establish that any unauthorized acts of violence or aggression committed on the high seas constitutes piracy as defined by the law," Judge Jackson said in his ruling.
The US warship returned fire after the alleged attack, sank the group's small vessel, killed one man on board, and captured the others in the group, prosecutors said.
The six Somali men have also been charged with conspiracy, assault with a dangerous weapon, attacking to plunder a vessel, and acts of violence against people on a vessel.
Five Somali men have been accused separately in Virginia of an attack on the USS Nicholas on 1 April.
All the men are being held until court proceedings continue this autumn.