North Korea creates Twitter and YouTube presence
By Clark Boyd
Technology correspondent for PRI's The World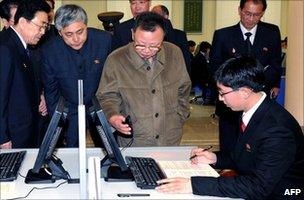 It is common to use words like "reclusive" and "secretive" when writing about North Korea.
But last Thursday, the North Koreans created a Twitter account - @uriminzok, a shortened version of a Korean word that translates as "our people".
It already has more than 4,500 followers.
The move to Twitter follows last month's launch of a North Korean YouTube channel, which now hosts close to 80 videos.
"The North Koreans are technologically literate," says Hazel Smith, a long-time North Korea researcher at Cranfield University in Britain.
Ms Smith says that the North Koreans have been investing heavily in information technology now for more than 20 years.
"They have a cadre of people who can use modern social networking sites. But the problem for them is the content," she said.
On the North Korean YouTube channel, that content includes a lot of propaganda laced with bombastic rhetoric; the United States and South Korea are often called "warmongers".
In a recent Twitter post, the North Koreans said the current administration in South Korea was "a prostitute" of the US.
"As far as content goes, there's nothing new as far as I can tell," says Sung-Yoon Lee, professor of International Politics at the Fletcher School of Law and Diplomacy at Tufts University in Boston.
Mr Lee says that the agency responsible for the videos and the tweets is a major arm of the country's ruling communist party.
"They've been putting out stuff like this for years now," said Mr Lee.
The irony is that the vast majority of North Korea's 23 million people have no Internet access, and therefore cannot follow their own government's social networking sites.
And even if they could follow, they would not be allowed to use social media to criticize the regime, says Gilles Lordet, chief editor of Reporters without Borders in Paris.
"There is absolutely no press freedom at all in North Korea, no independent media," Mr Lordet said. "There is only the government, the voice of the regime."
For now, North Korea's online offerings are only in Korean.
But Professor Lee thinks that they might soon expand their offerings to include video clips and posts in English.
"The North Koreans already produce propaganda material in English, through the Korean Central News Agency," he said. "They have the wherewithal to do it."
He added: "It will just take them a little more time and effort."
PRI's The World is a co-production between the BBC World Service, WGBH Boston, and Public Radio International. It is heard on public radio stations across the US and on-line at theworld.org.
Related Internet Links
The BBC is not responsible for the content of external sites.