Two infant skeletons found in 1920s LA building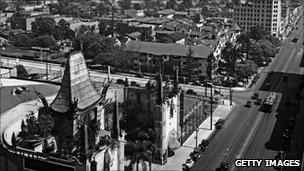 Two infant skeletons have been found wrapped in newspaper from the 1930s in the basement of a building in Los Angeles, California, police say.
The remains, which are believed to be decades old, were found placed in doctor's bags inside a trunk in a 1920s building near MacArthur Park.
Two women found the skeletons while cleaning out the Glen-Donald building.
Police have promised an investigation and are awaiting test results from the coroner's office.
"We'll try to reconstruct the circumstances based on what the coroner tells us, based on the history of the residence and based on science," Los Angeles police chief Charlie Beck told the Los Angeles Times newspaper.
One of the skeletons was wrapped in a 1933 copy of the Los Angeles Times and the other was in a 1935 issue.
Gloria Gomez, the building's manager, said she and Yiming Xing, one of the building's tenants, had found the remains after prying open a 4ft (1.2m) tall unclaimed steamer trunk.
"I saw something not very pleasant and very unusual. It didn't have any shape to it. But it seemed like a dried-out body," Ms Xing told the Los Angeles Times.
She added: "The first thing I thought was the spirits - maybe we disturbed the spirits."
Ms Gomez said one set of remains looked like an embryo, while the other appeared to be those of a newborn baby.
The trunk was reportedly labeled "Jean M Barrie" and also contained personal letters and ticket stubs from the 1932 Los Angeles Olympic Games.
Related Internet Links
The BBC is not responsible for the content of external sites.