US Catholic church sued by alleged abuse victims
By Peter Bowes
BBC News, Los Angeles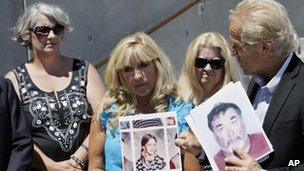 The Catholic Church is being sued in California by seven people who claim they were sexually abused by a priest several decades ago.
The six women and one man accuse the Diocese of Oakland of negligence for hiring the Reverend Stephen Kiesle.
They say it was known that there were multiple allegations of abuse against him.
He was sentenced to three years probation in 1978 for lewd conduct with two young boys in San Francisco.
In 1982, the diocese recommended his removal from the Church - but that did not happen for a further five years.
In the meantime, the then Cardinal Joseph Ratzinger, now Pope Benedict, had responsibility for investigating some cases of abuse by priests.
Cardinal Ratzinger sent a letter to the Diocese, urging "as much paternal care as possible" for Father Kiesle.
In a letter to the Diocese he said the arguments for removing Father Kiesle were of "grave significance" but he added that such action required "careful review and more time".
The "good of the church," he said, had to be considered in any defrocking.
The current lawsuits, which do not name the Vatican as a defendant, claims church officials did nothing effectively to prevent the priest from continuing to access children.
According to one lawyer, the Church was more concerned with saving face and protecting its reputation than with the well-being of children.
A spokesman for the Diocese said officials had not yet seen the lawsuits.