Growing number in America believe Obama a Muslim -poll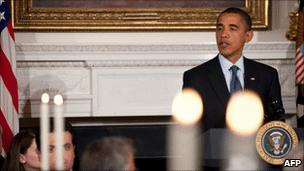 A growing number of Americans incorrectly believe President Barack Obama is a Muslim, research suggests.
Some 18% said the president was a Muslim, up from 11% in March 2009, according to the Pew Research survey of 3,003 Americans.
Among Republicans, that number was 34%. Just a third of those quizzed correctly identified Mr Obama as Christian.
Polling was done before 13 August when Mr Obama defended Muslims' right to build an Islamic centre by Ground Zero.
Forty-three per cent of those questioned said they did not know what Mr Obama's religion was.
The White House attributed the mistaken beliefs about Mr Obama's religion to a "misinformation campaign" pursued by his political opponents.
"While the president has been diligent and personally committed to his own Christian faith, there's certainly folks who are intent on spreading falsehoods about the president and his values and beliefs," White House faith adviser Joshua DuBois told AFP news agency.
The poll found beliefs about the president's faith were closely linked to political judgments about him.
It found that people who believe Mr Obama is a Muslim "overwhelmingly disapprove" of his job performance, while a majority of those who identify him as a Christian approve.
News of the poll comes amid fears by some US Muslims that they will be targeted due to the fact that the holiday of Eid falls on 11 September this year, the anniversary of the terror attacks of 2001.
Some are concerned that the joyous festivals that mark the occasion will be misconstrued as celebrations of the attacks.
Meanwhile a national debate continues over a developer's plans to build a mosque and community centre two blocks away from Ground Zero in New York.
The plans have provoked vehement opposition from many conservatives, though Mr Obama, New York Mayor Michael Bloomberg, the chairman of the US Democratic party and others have defended the developers' right to build there.