Canadian economic growth 'slows' amid drop in housing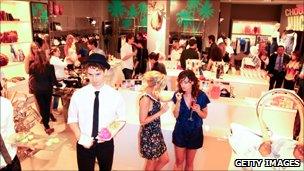 Canadian economic growth slowed in July amid a decline in the housing market, a leading economic index shows.
The world's tenth largest economy grew 0.4% last month, down from 0.7% in June, according to Statistics Canada.
Sales of durable retail goods declined, while the manufacturing sector saw a 2.2% growth in durable goods orders.
The Canadian leading index of 10 economic components has averaged 0.9% growth per month over the past 12 months. Growth rarely exceeds 1%.
The slowdown was caused largely by a 4.1% drop in the housing index, which is composed of new housing starts and house sales.
Coinciding with that decline was a 0.6% drop in retail sales, including furniture, appliances and other durable household goods.
Related Internet Links
The BBC is not responsible for the content of external sites.