Ex-baseball star Roger Clemens accused of steroids lie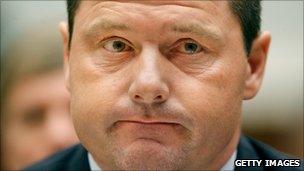 Ex-US baseball star Roger Clemens has been indicted by a federal grand jury for allegedly lying to Congress about using performance-enhancing drugs.
The indictment alleges the former pitcher obstructed a congressional inquiry when he denied using the substances while under oath in 2008.
Mr Clemens' former trainer has told a House committee he injected the player with the drugs between 1998 and 2001.
Mr Clemens spent time with both the Boston Red Sox and New York Yankees.
The two contradicting accounts are the foundation of the six-count indictment, which says the now-retired player lied and committed perjury regarding the allegations.
Mr Clemens said under oath in 2008 that Brian McNamee, his former trainer, had lied before the committee about having given the former baseball star performance-enhancing drugs.
"I couldn't tell you the first thing about it [human growth hormone]," Mr Clemens testified in 2008. "I never used steroids. Never performance-enhancing steroids."
But Mr McNamee said he had injected Mr Clemens more than a dozen times in three years.
Earl Ward, one of Mr McNamee's attorneys, called the indictment "vindication".
In a statement on the micro-blogging website Twitter, Mr Clemens recently wrote: "I never took HGH [human growth hormone] or steroids. And I did not lie to Congress."
If convicted of all charges, the former baseball star, who was named baseball's best pitcher seven times, could face up to 30 years in prison and a $1.5m (£960,000) fine.