Americans unconvinced by Lockerbie explanations
By Steve Kingstone
BBC News, Washington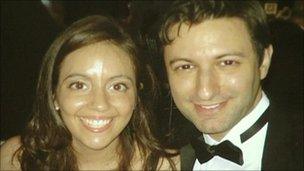 Strange as it sounds, a small group of relatives of those killed on Pan Am 103 will be preparing to celebrate as the man convicted of the Lockerbie bombing completes his first year of freedom.
The source of their joy: a remarkable union, formed in the wake of a heinous crime.
Bride-to-be Sonia Stratis and her fiance Chris Tedeschi both lost loved ones in the bombing.
On 21 December 1988, Sonia's father, Elia, had been flying home to New York.
Also on board was Bill Daniels, whose widow, Kathy, is today the groom's stepmother. Sonia met Chris in 2008, at a 20th anniversary Lockerbie memorial dinner in Virginia.
"I miss my dad," says Sonia, "but I'll be carrying a picture of him on my bouquet. So in essence he will be walking me down the aisle."
The couple will take their vows in New Jersey, just one day after the anniversary of Abdelbaset Ali al-Megrahi's controversial release.
In its own special way, the ceremony is an act of defiance - the triumph of love over hate. But even in celebration, there is deeply-felt bitterness over Megrahi's freedom.
"We were promised that anyone convicted would serve their sentence in Scotland," explains Mary Kay Stratis - Elia's widow and Sonia's mother. "We feel betrayed by governments."
And Mary Kay Stratis voices a concern shared by almost all the American relatives. "We are sceptical about any release based on compassion. We are wondering whether there was some other reason why he was released."
American anger was fuelled by revelations of lobbying by BP.
Desperate to secure a lucrative oil contract with Libya, the company urged the UK government to speed up a Prisoner Transfer Agreement (PTA) with Tripoli.
On 20 August 2009, the Scottish government rejected PTA as grounds for freeing the Lockerbie bomber; but on the very same day, approved a separate request for compassionate release.
The prisoner was said to be dying of prostate cancer, with only three months to live.
"The whole thing stinks," says Peter Lowenstein, whose 20-year-old son Alexander was among the 189 American victims - two-thirds of the total number who died.
Like many US relatives, he crossed the Atlantic to attend Megrahi's trial, which was held under Scots law at a specially-convened court in the Netherlands.
With very few exceptions, the American families welcomed the guilty verdict, unlike some of their British counterparts, who still harbour doubts about the conviction.
Americans' certainty about Megrahi's guilt goes a long way to explaining their fury at his release.
"We felt hurt," explains Peter Lowenstein. "Megrahi's release put a knife into an already open wound."
He describes how the American families had previously trusted the Scottish authorities, in contrast to their suspicions about the motives of the UK and US governments.
"Until then, the Scots had been the one shining light, they made us feel like family," Mr Lowenstein recalls. "So for them to release him under false pretences was very upsetting."
"False pretences" reflects the lingering suspicion here that the Scottish government used compassionate release as cover to get Megrahi out of the country.
US sceptics point to a May 2009 letter from the Libyan government, which warned Scottish ministers of "the negative impact that his death in a British prison would have" on relations between the UK and Libya.
A vocal group of US senators is demanding that the Scots now produce the full medical records on which his release was based.
They note that in none of the published documents did a named doctor advise that Megrahi had only three months to live - the criterion for compassionate release.
On 10 August 2009, the Medical Officer for the Scottish Prison Service wrote: "Whether or not prognosis is more or less than 3 months, no specialist 'would be willing to say'."
The four senators, representing New York and New Jersey, wrote to Scottish First Minister Alex Salmond last week, stating "the lack of consensus and clarity from any of the specialists involved is very troubling".
The Scottish Justice Secretary, Kenny MacAskill, has said he is prepared to meet the group in Scotland, as part of their ongoing congressional investigation.
Conspicuously silent in all this is the White House.
During David Cameron's visit to Washington last month, Barack Obama could have embarrassed his guest by joining calls for a public inquiry into Megrahi's release.
Instead, he expressed vague optimism that the UK prime minister would "clarify" the details of the release.
Without White House muscle, America's quest for answers may peter out. But the bitterness will linger, especially while the Lockerbie bomber remains alive.
"Where is the justice?" asks Sonia Stratis, the victim's daughter preparing for her wedding day. "When justice gets put on the back burner so economic things can happen, it hurts."