US police catch 'Bonnie and Clyde' fugitive couple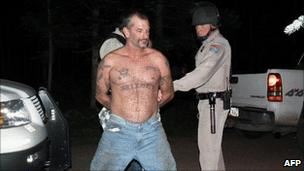 Police have captured an armed fugitive couple after a three-week nationwide manhunt, authorities said.
Escaped prisoner John McCluskey and his fiancee Casslyn Welch were arrested after a "hero" forest ranger spotted them at a camp site, officials said.
McCluskey told officers he would have shot them if he had been able to reach a gun in his tent, officials said.
The pair, now held in a county jail, had been on the run since McCluskey escaped from prison on 30 July.
US authorities had launched a multi-state manhunt for the couple and had issued an Interpol notice. Mr McCluskey and Welch are said to have likened themselves to Bonnie and Clyde, the infamous 20th Century outlaws.
They were discovered in Apache-Sitgreaves National Forest in eastern Arizona, having last been seen in Montana, more than 700 miles (1,126km) to the north.
Officials speculate they returned to Arizona, the state they knew best.
The ranger was a "true hero," Apache County Sheriff Joseph Dedman said.
"He made contact. He was out there doing his job when he saw these two fugitives."
McCluskey, 45, had been serving 15 years in Arizona State Prison, in Kingman, for attempted murder, aggravated assault and discharge of a firearm.
He escaped with two fellow inmates, allegedly aided by 44-year-old Ms Welch.
New Mexico officials have said McCluskey and Ms Welch had been linked to the murder of a holiday-making couple, found dead in their trailer on a remote ranch in New Mexico on 4 August.
The victims had been on their way to Colorado on an annual camping trip.
Officials' last confirmed sightings of McCluskey and Ms Welch on 6 August in Montana.
Earlier this month, police said they believed the pair had disguised their identities.
Officials say McCluskey and fellow inmates Tracy Province and Daniel Renwick escaped from Arizona State Prison after Ms Welch, who is also McCluskey's cousin, threw wire cutters over a jail fence.
A report suggested that a series of security breakdowns at the prison had allowed the escape.
These included a defective alarm system, an unstaffed perimeter post, and staff ignoring alarms because of their frequency.
Charles Ryan, director of the Arizona Department of Corrections, described the case as a "terrible tragedy", according to AP news agency.
"The department and the contractor have a lot of work to do," he said at a news conference on Thursday.
The other two escaped convicts have since been arrested. Both were serving time for murder.