Salmonella outbreak traced to eggs 'likely to grow'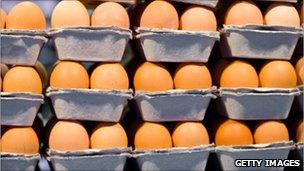 A salmonella outbreak linked to tainted eggs is expected to grow, US health officials have said.
About 2,000 salmonella cases were reported between May and July, roughly 1,300 more than usual, the Centers for Disease Control said. No deaths have been reported.
Food regulators said salmonella cases had increased fourfold since May.
Wright County Egg of Iowa has recalled 380 million eggs distributed under more than a dozen brand names across the US.
"I would anticipate that we will be seeing more illnesses reported likely as a result of this outbreak," said Dr Christopher Braden of the Centers for Disease Control.
Cases that occured after mid-July may not have been reported yet, Dr Braden told reporters.
He said that not all of the roughly 2,000 reported cases of the bacteria-borne disease could be linked to the outbreak.
Wright County Egg is part of DeCoster Farms, a family-run agribusiness.
The eggs were distributed around the country and packaged under the names Lucerne, Albertson, Mountain Dairy, Ralph's, Boomsma's, Sunshine, Hillandale, Trafficanda, Farm Fresh, Shoreland, Lund, Dutch Farms and Kemp.
The egg producer said it was cooperating fully with an FDA investigation and was diverting its eggs to a breaker for pasteurization to kill any harmful bacteria.
Salmonella poisoning can be deadly for people with compromised immune systems, but no deaths have so far been reported.
Bacteria can be passed from seemingly healthy chickens, and grows both inside the egg and on the shell.
Proper cooking can kill the bacteria, but authorities recommend discarding or returning any potentially affected eggs.
Related Internet Links
The BBC is not responsible for the content of external sites.