Filmmaker Moore gives to fund for Wikileaks accused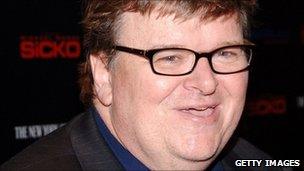 Documentary filmmaker Michael Moore has donated $5,000 (£3,900) to help defend Army Spc Bradley Manning, the man suspected of giving classified documents to the website Wikileaks.
Mr Moore told the AP news agency he hopes to make the public understand Spc Manning allegedly exposed "war crimes".
Spc Manning, 22, is being charged with leaking a 2007 video of a US helicopter attack in Iraq that killed 11 people.
The Army private faces up to 52 years in prison if convicted.
The Pentagon is also investigating whether Spc Manning gave Wikileaks 77,000 Afghanistan war logs. US officials say the disclosure of those documents endangered the lives of innocent people.
"He did a courageous thing and he did a patriotic thing," Mr Moore said.
The Bradley Manning Support Network, a group raising money for an attorney for Spc Manning, said they were delighted with Mr Moore's support.
Related Internet Links
The BBC is not responsible for the content of external sites.