US food safety agency sees 'more egg recalls' ahead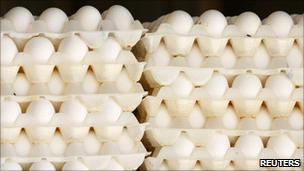 The US food safety agency has predicted more egg recalls as it investigates the source of salmonella-tainted eggs that have sickened as many as 2,000 people.
Food and Drug Administration Commissioner Dr Margaret Hamburg said the agency did not yet know how salmonella had entered the egg supply.
Since May, the US has seen a fourfold increase in salmonella infections.
In the last 10 days roughly 500 million eggs traced to two Iowa companies have been recalled across the country.
"As we move forward with the recall, we may see some additional sub-recalls over the next couple of days, maybe even weeks as we better understand the sort of network of distribution of these eggs that are potentially contaminated," Dr Hamburg said on ABC's Good Morning America.
"We are in the midst of probably the largest egg recall that has happened in recent history," she said.
In a round of television interviews on Monday morning, Dr Hamburg warned that eggs from farms in Iowa were sold under different brand names across the country, making it difficult for regulators to trace tainted eggs through the food distribution network.
On 13 August Iowa-based Wright County Egg recalled 380 million eggs distributed under more than a dozen brand names. And on Friday, a second Iowa egg farm, Hillandale Farms, voluntarily recalled 170 million eggs after they were linked to more than 300 salmonella cases across the country.
Dr Hamburg urged Americans to avoid eating undercooked eggs.
"No more runny egg yolks for mopping up with toast," she said.
Related Internet Links
The BBC is not responsible for the content of external sites.