Dinosaur bones found in Canadian sewer tunnel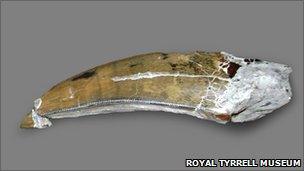 Canadian workers have unearthed large dinosaur bones while digging a sewer tunnel in the city of Edmonton.
A tooth and limb bone, which experts believe belong to the Albertosaurus and the Edmontosaurus species, were found by drainage crews in the Quesnell Heights neighbourhood.
The Royal Tyrrell Museum is helping city officials to identify the fossils.
Museum officials say finding dinosaur bones in Canada's Alberta province is a relatively common occurrence.
"I can go out on a hike on a Sunday and find a dinosaur bone. But it's really a question of how significant the find is," said Leanna Mohan, the museum's marketing coordinator.
Andy Neuman, the executive director of the museum, said that although dinosaur bones had been discovered in Edmonton in the past, this was the first time the city of Edmonton has made the discovery.
"Any find like this at a new location adds information to our growing data set," said Mr Neuman. "It expands our central knowledge of dinosaurs in Alberta."
"One of the things that makes this find significant is that the crews are out there digging holes frequently, and it's really nice to know they are acting as good stewards of the material and bringing it to our attention when they find it."
Mr Neuman said workers will now continue to dig out bones still stuck inside the walls of the tunnel.
The Albertosaurus, a close relative of the Tyrannosaurus rex, was a top predator millions of years ago, according to the Tyrrell Museum.
The first Albertosaurus was found by Joseph Tyrrell in 1884 in the Red Deer River Valley in Alberta, Canada.
The Albertosaurus was the most common of the large carnivores found in the Canadian province.
Related Internet Links
The BBC is not responsible for the content of external sites.