Tamil asylum-seekers must stay in jail, Canada says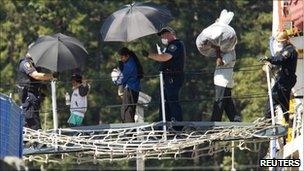 More than 400 Sri Lankan Tamil refugees who arrived in Canada aboard a cargo ship 11 days ago have been told they must stay in jail.
The Canadian Immigration and Refugee Board agreed with government requests for more time to check the migrants' identity papers.
Government officials want to establish whether any are militants from the Tamil Tigers, a group banned in Canada.
Some 49 children arrived with the group, but they have not been detained.
Government officials said the children were either in jails with their mothers, or in the care of social services care if they had arrived unaccompanied.
Under Canadian law, asylum seekers held in custody are allowed periodic detention hearings.
The Sri Lankan Tamils arrived in Canadian waters aboard the MV Sun Sea on 13 August. They had reportedly spent 90 days travelling from Thailand, crossing the Pacific and being turned away in Australia.
One migrant died during the voyage. It was the second boat carrying Tamil migrants to arrive in Canada in less than a year.
The vessel set sail amid complaints of repression against members of the Tamil ethnic group, following last year's defeat of the Tamil Tiger rebels that ended Sri Lanka's 25-year long civil war.
The United Nations has said at least 7,000 civilians were killed in the finale of the war, and thousands of Tamils remain in camps in the country.
Related Internet Links
The BBC is not responsible for the content of external sites.