John McCain beats Tea Party challenger in Arizona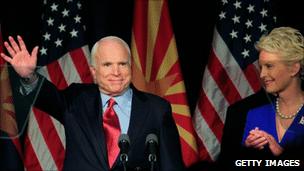 Former US presidential candidate John McCain has comfortably won the Republican Senate nomination in Arizona after a closely-watched primary race.
Analysts say Mr McCain was forced to the political right as he battled JD Hayworth, who is backed by the conservative Tea Party movement.
In Alaska, Senator Lisa Murkowski's bid for the Republican nod was under threat from Sarah Palin favourite Joe Miller.
Five states voted on party candidates for November's mid-term elections.
Mr McCain said he would now focus on beating his Democratic rival in November's mid-term elections.
In Florida, victory in the Democratic Senate primary went to Obama-backed former congressman Kendrick Meek.
Mr Meek, who was also supported by former President Bill Clinton, triumphed over Jeff Greene, a billionaire who spent an estimated $20m (£13m) on his campaign.
Mr Meek will now compete for the Senate prize in Florida against Republican candidate Marco Rubio, a Tea Party favourite, and Republican Governor Charlie Crist, who is running for senator as an independent.
Mr McCain also reportedly spent almost $20m on his primary campaign after early polls showed Mr Hayworth very much in contention.
The former presidential candidate took a harder stance on border issues amid the debate over the controversial immigration law in Arizona.
Mr McCain also toughened his position on gay rights, and led opposition to President Barack Obama's healthcare reform.
He will now begin a final 10-week push for re-election, and is heavily favoured over his Democratic opponent.
Speaking after the vote, Mr McCain said: "No-one is satisfied with the current condition of our country. I know Arizonans, like Americans elsewhere, are rightly concerned with the direction we seem to be heading in.
"I am convinced that Republicans will win in November and we will regain our majorities in both the Senate and the House."
Mr Hayworth, a conservative chat-show host and former member of Congress, had the support of the anti-establishment Tea Party movement, which is fiercely critical of big government.
Also in Arizona, Ben Quayle, son of former Vice-President Dan Quayle, won a Republican Congressional primary after taking advantage of his name recognition and making use of family connections for a fundraising advantage in a crowded field.
Mr Quayle, 32, won with 23% of the vote after running adverts describing Mr Obama as the "worst president in history" and pledging to "knock the hell out of Washington" if elected. He also survived revelations he had written articles for a racy Arizona website.
In Alaska, Joe Miller - endorsed by former Alaska Governor Sarah Palin and a favourite of the Tea Party movement - looked set to pull off a big political upset as he edged ahead of Republican Senator Lisa Murkowski in early results.
With 98% of the vote counted, Mr Miller led with 51% of the vote to Ms Murkowski's 49%. As many as 16,000 absentee ballots remain uncounted, though analysts say they are unlikely to sway the result.
Mr Miller credited Mrs Palin's endorsement for his lead.
"I'm absolutely certain that was pivotal," he said, according to the Anchorage Daily News.
In the race to be the Republican candidate for governor of Florida, political novice Rick Scott edged past state Attorney General Bill McCollum.
Mr Scott spent tens of millions of dollars of his own money on the campaign.
Meanwhile, further evidence of the major issue for US voters emerged on Tuesday, in a Reuters/Ipsos poll which suggested 72% of Americans were very worried about joblessness and 67% were very concerned about government spending.
Mr Obama's approval rating, at 45%, was overtaken for the first time in this poll by a 52% disapproval rating - although other polls have already seen a similar trend.
Related Internet Links
The BBC is not responsible for the content of external sites.