Alaskan jailed for eight years over Islam 'hit list'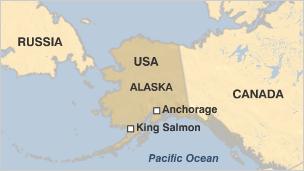 An Alaskan who compiled a hit list of enemies of Islam has been sentenced to eight years in prison.
Paul Rockwood and his British wife Nadia Rockwood pleaded guilty last month to lying to investigators about the list of 20 targets, said to include members of the media and the military.
Mrs Rockwood, who is pregnant, will be allowed to serve her sentence of five years' probation in the UK.
US authorities said Mr Rockwood had researched shooting and bomb making.
The couple, who lived in King Salmon, Alaska, were prosecuted under a terrorism law passed following the 11 September, 2001 terror attacks.
Mr Rockwood was an employee for the US National Weather Service. He was a convert to Islam and federal officials said he was a follower of radical American-born cleric Anwar al-Awlaki.