Canada to open new Arctic station at Cambridge Bay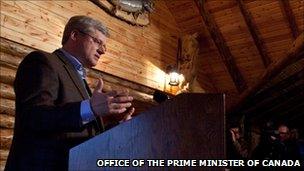 Canada will set up a research station at Cambridge Bay in the Arctic, Prime Minister Stephen Harper has said.
The facility will be a "world-class, year-round, multidisciplinary facility exploring the cutting-edge of Arctic science" Mr Harper said in a statement.
The announcement comes at a time when melting ice has opened the territory up to shipping and mineral exploration.
Correspondents say the move is designed to bolster Canada's claims to disputed parts of the territory.
At the start of his annual summer tour to the region, Mr Harper shrugged off an incident earlier this month when Danish tourists planted Danish and Greenland flags on a disputed islet called Hans Island, saying Canada had bigger fish to fry.
Canada says the facility is part of a new four-part strategy in the north.
It also said other parts of the plan include protecting the Arctic ecosystem, developing a strong Northern economy and encouraging greater local control.
Interest in the region has increased because of the Arctic's melting ice, which could give oil rigs improved access to the sea floor.
"By building this leading-edge research station, we are advancing Canada's knowledge of the Arctic's resources and climate while at the same time ensuring that Northern communities are prosperous, vibrant and secure," Mr Harper said during a five-day tour through the Arctic.
The prime minister made his announcement from Churchill, which he said would receive funding to improve the local airport.
Canada and the United States began a five-week joint Arctic survey early in August, which will partly take place in a section of the energy-rich Beaufort Sea that is claimed by both countries.
The survey could grant the countries exploitation rights to potential energy and mineral wealth above and below the sea floor.
Related Internet Links
The BBC is not responsible for the content of external sites.