Skyscraper near Empire State Building wins backing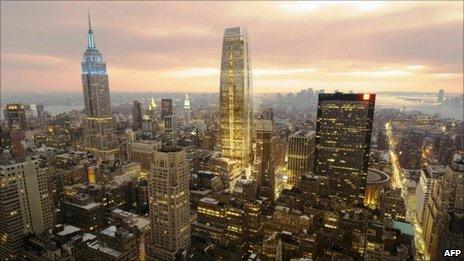 A new 67-storey skyscraper has won the approval of the New York authorities despite efforts to stop the construction by the owner of the Empire State Building.
The full city council backed the 15 Penn Plaza by a 47-1 vote.
The office building will stand nearly as tall as the 102-storey Empire State Building (ESB), two blocks away.
ESB owner Anthony Malkin had argued the new building would ruin the "uniqueness" of the city's skyline.
But New York Mayor Michael Bloomberg said Manhattan should embrace new investments, adding: "Anybody that builds a building in New York City changes its skyline.
"We don't have to run around to every other owner and apologize," Mr Bloomberg told a news conference.
"One guy owns a building, and he'd like to have it be the only tall building. I'm sorry that's not the real world," he added.
A spokesman for the building's developer said the building would be an "an outstanding addition to New York's skyline".
In a statement, Mr Malkin said: "This is not about banning tall buildings, but about preserving the very uniqueness of the New York City skyline."
The Empire State Building, which stands 1,250ft (381m), was the tallest building in New York City until the construction of the World Trade Center in Manhattan's Financial District in 1970.
The building, built in 1931, once again held the title following the 9/11 attacks.
The new skyscraper will stand 1,190ft-tall (363m). Its development is still in the planning stages.