Pakistan floods: 'The worst is yet to come'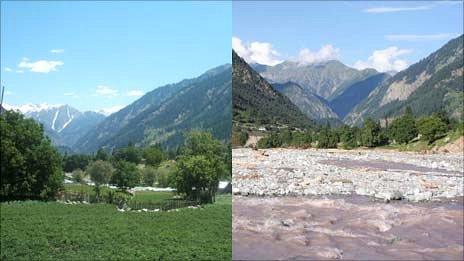 Two women from Islamabad, who decided to put their personal lives on hold in order to help Pakistani flood victims, describe the areas they visited and what they did there.
Huma Beg returned to flood-stricken Swat shortly after she had filmed a documentary there about recovery in the post-Taliban era.
I was in Swat in July. We were filming celebrations marking the new era of peace after the Taliban had gone. We visited Utror - a village so remote that for the locals there, we were the first outside people they saw after the militants.
Little did I know that a week after I had come back to Islamabad I would return to that same village, only to film a new tragedy.
The difference I saw was incredible. Where orchards once stood, there was nothing - a wasteland of water and stones.
We went back to make a film about the floods, and we did this as a public service, free of charge. The films we made were shown at the national donor conference, at the UN and they are on YouTube. It's our aim to show to as many people as possible the extent of the damage and the profound effects on the people living there.
But as I had made personal connections with the local people, I also wanted to help them, to bring relief, anything that would ease their situation. I've also written a blog about what we saw on our journey.
We purchased goods for up to 20 million rupees ($23,430) - this is money collected from family, friends and people who heard about what we were doing. We singled out 40 widows and 25 disabled children to help.
The situation in the south in 10 times worse, they don't have water, and diseases are spreading. Swat is different. They have water, but they lost everything.
And the worst is yet to come. At this time of the year they would be selling their fruit and vegetables, which would have been their income to see them through the winter. But all that is lost with the orchards and crops destroyed.
Their problems will come in the winter and they'll last for the entire year. Some of them are so afraid of the water, that they have gone higher up in the mountains where they live in tents.
There's someone in the south who travels to that village every five days or so. He keeps me updated about their situation. They are struggling to feed themselves. They are currently growing some vegetables, but they don't have any pulses. They need flour and sugar and that's what we are buying for them now.
Today we'll be heading south where the river is joining the sea. There are fears of more floods in those areas and nobody knows how that will play out.
This is the biggest disaster in the world!
Noor Aftab, former head of investments and treasury at First Women Bank
Noor Aftab's contract was up for renewal when the floods hit. She decided not to renew it and work to help flood victims instead.
"It wasn't even a matter of choice. The only thing I could do was to go to the affected areas and try to help people there.
I am a board member of the Shahina Aftab Foundation, which primarily works on women income generation programmes. Once the flood happened, our focus shifted to flood relief. We created a crisis cell here in Islamabad and we started calling donors.
The area we are working is Nowshera and Risalaur in Khyber Pakhtunkhwa Province, which was first affected by the floods.
We sent our first team there and the reports we got back made us even more determined. They witnessed people clinging to electric wire, they saw human and animal bodies in the water, they saw people drinking that water. They saw 3,000 women stuck on roof tops with clothes torn - these are women who cover themselves from head to toe.
When I went there we had limited supplies and we selected about 12,500 women to give it to. Some women hadn't seen food for days. They weren't acting rationally. They were pushing everyone else to get their hands on something to eat. They thought this was their last chance of survival.
We could either help a larger number of people, but only for the basics for a short period of time, or select a smaller number of people and work with them not just for their immediate needs, but towards their longer-term rehabilitation.
We chose the second approach. We are now helping 6,000 people in Nowshera and Risalaur, but we have set a much higher target. The army is housing them in schools. But that's where the job of the army stops and our job starts. We want to help women in particular, create income generating projects for them and provide them with doctors and psychotherapists.
There was a woman who had a strange behaviour - I was told by people who knew her that the flood waters took her three children in front of her. Their bodies were found later. I saw children who were so traumatised that they wouldn't respond to you.
Some people have lost relatives, but everybody has lost their home.
Every time we send relief items, there was a sticker on them with our contact details. I gave my mobile phone and I am now constantly getting distress calls from various different locations telling us where people are stranded and in urgent need of help. Then we send a small team with supplies to those places.
I am horrified how many cases of acute diarrhoea there are. People in camps we visited have been wearing the same clothes and in come cases they haven't been able to wash their hands in ten days.
Women need sanitary kits. From all the calls we are getting - I think female sanitary items and dry milk for the babies are most needed.
We are using social media actively to reach people. We have a Facebook page and we just got a large offer of money from India. The interesting things is that many individuals from India have come forward with their offer of help.
The amount of damage is colossal and we are grateful for anything we get. One if every five Pakistanis is affected and we may be wondering if our little bit makes a difference. It does, because it's all the hope they have."
Related Internet Links
The BBC is not responsible for the content of external sites.