Alaska Senator Murkowski's re-election bid threatened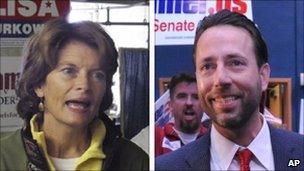 Alaska Senator Lisa Murkowski's bid to win the Republican Party's nomination to run in November's mid-term election remains in peril.
Her challenger, Joe Miller, holds a lead of about 1,600 votes with 98% of primary votes counted. Officials are now tallying absentee ballots.
The winner of Tuesday's vote will face Democrat Scott McAdams in November.
The Democrats have already turned their sights on Mr Miller, who is backed by Sarah Palin and the Tea Party movement.
The Democratic Party is seeking to paint him as a right-wing extremist, analysts say.
Ms Murkowski has yet to concede the race to Mr Miller, who has credited the endorsement from Mrs Palin, a former Alaska governor and vice-presidential candidate, for his surprise showing.
But the possibility that he could win the party's nomination for the November election has the Democrats scrambling to bolster their relatively unknown candidate.
Mr McAdams is a former commercial fisherman and mayor of Sitka, a town of about 9,000 people.