Prosecutors opt not to retry Rod Blagojevich's brother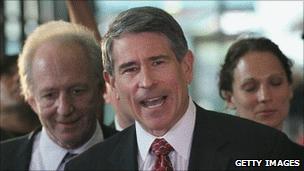 US prosecutors have opted not to try for a second time the brother of former Illinois Governor Rod Blagojevich.
A federal jury reached deadlock last week on four corruption counts against Robert Blagojevich, but officials said his role in the alleged plot was small.
The jury found Rod Blagojevich guilty of making false statements but was unable to reach a unanimous verdict on 23 other corruption charges.
Federal prosecutors have pledged to retry the former governor.
Prosecutors made the decision not to retry Robert Blagojevich after weighing his less central role in the alleged conspiracy, which authorities say included an effort to "sell" President Barack Obama's vacant Senate seat for political favours.
The former governor has said he has no money, and taxpayers are likely to fund his defence in a second trial.