Health officials find salmonella at US egg recall farm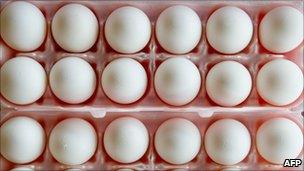 US health officials say they have found salmonella in chicken feed used at two farms involved in a major egg recall.
"We do not know at this point how, when or where this feed may have been contaminated," said Jeff Farrar of the US Food and Drug Administration (FDA).
More than 550 million eggs from Wright County Egg and Hillandale Farms in Iowa were recalled earlier this month.
There have been some 1,400 more cases of salmonella-related illnesses than average in the US since 1 May.
Samples of salmonella were found at a feed mill which operates as part of the Wright County Egg facility and also provides feed to Hillandale Farms.
The DNA in the samples matched the DNA of the bacteria in the outbreak, but feed ingredients may not have been the originating point for the salmonella outbreak.
"This may well just be that the birds got in and contaminated or there's just contamination in the facility overall," said Joshua Sharfstein, FDA principal deputy commissioner.
"So we'll obviously be taking a look at everything, all the pieces of the puzzle as it comes together."
As many as 600 samples from 24 locations at the two farms are still being analyzed by investigators.
On 13 August Wright County Egg recalled 380 million eggs distributed under more than a dozen brand names. And on 21 August, Hillandale Farms, voluntarily recalled 170 million of its product.
The massive egg recalls came weeks after a new FDA rule came into effect tightening safety rules at large producers and required testing in poultry houses for salmonella bacteria, Reuters reported.
Experts say salmonella is spread most often by food contaminated by animal fecal matter.
Related Internet Links
The BBC is not responsible for the content of external sites.