Obama sets clock ticking on Middle East talks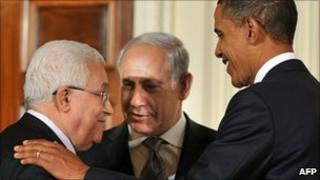 For all the diplomatic theatre in the White House, the Middle East peace talks have by no means a full cast.
Some key actors like Hamas are not present at all, preferring to mount their own bloody tableau in the West Bank.
Others - like the hard-line Israeli settler movement - cast a long shadow over the deliberations.
Indeed there is a clear risk that the future of Israel's partial settlement freeze, not the peace process, may dominate the early stages of these discussions.
One state or two?
So with the critics on all sides pouring cold water on the chances of success, why is President Barack Obama staking so much on a peace deal within one year?
For a start there are widespread fears that time is running out for a two-state deal.
This has been the preferred outcome for the wider international community for a generation.
For all the divisions, for all the bloodshed, the prevailing view has been that only by ending the Israeli occupation of territory captured in 1967 and by establishing two secure states - Israel and Palestine, reflecting the national aspirations of both peoples - could a lasting peace be achieved.
However, over recent years competing one-state solutions have jostled with each other and sought to undermine the two-state paradigm.
Some in the Arab world have long argued for a single state between Jordan and the sea, even as a majority of Arab states have come to accept a broadly-based peace plan that would ultimately lead to the recognition of Israel.
More recently, some on the Israeli political right have questioned the need to withdraw at all from the occupied territories, suggesting in a vague way that the Palestinian population could somehow be incorporated into a Jewish-run state.
However, the single-state solution for many is seen as no solution at all.
Which Jews would remain in a secular Palestinian-dominated state? How many Palestinians would really be happy in a "greater" Israel whose borders rested on the Jordan river? And how would minority rights be preserved in either scenario?
Indeed, within Israel there is a growing recognition among the liberal centre-left, that two states are essential if the country is to retain both its Jewish and democratic character.
A two-state solution is what is enshrined in the Saudi-sponsored Arab peace plan and if this approach were to be explicitly abandoned, crisis would ensue.
So if time is running out, Mr Obama and his advisers believe, then for both peoples - Israelis and Palestinians - progress must be made.
Linkage
Conditions may not be ripe. But if one were to wait for the seemingly "right" moment you could be waiting a lifetime.
A peace deal is clearly important for the protagonists themselves. But it could also be of vital importance for Washington too. The reason can be summed up in one word - "linkage".
This is a controversial and often misunderstood term.
When US Gen David Petraeus described the Arab-Israel dispute as the first "cross-cutting challenge to security and stability" in the Middle East and central Asia, in Congressional testimony back in March, it created something of a stir among at least some of Israel's supporters in Washington.
But Gen Petraeus was in many ways stating the obvious.
President Barack Obama and his advisers do not believe that the Israeli-Palestinian dispute is the only problem in the region.
Neither do they think that if it were solved all other troubles in the neighbourhood would simply evaporate.
But the Israel-Palestinian dispute stands at the confluence of a set of problems which have a huge bearing on the conduct of US foreign policy:
improving perceptions of Washington in the Arab and wider Muslim world, which depend heavily on America's relationship with Israel;
securing the future of Iraq;
isolating and containing a potentially nuclear-capable Iran;
maintaining the stability of pro-Western Arab governments.
All might be made so much easier if the cancer of the Israeli-Palestinian struggle were removed.
That is why Middle East peace is so important for this US administration. And that is why Mr Obama is willing to raise expectations, while well aware of the potential consequences if he cannot deliver.