Clinton warns of 'last chance' for Mid-East peace talks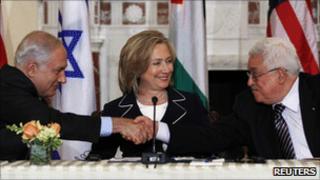 The US secretary of state has said the current round of Mid-East peace talks may be "the last chance for a very long time" to resolve the conflict.
In a joint interview with Israeli and Palestinian media, Hillary Clinton said failure would embolden "the forces of destruction" on both sides.
Time was "not on the side" of Israeli and Palestinian hopes, she added.
Mrs Clinton spoke after Israeli and Palestinian leaders began their first direct peace talks in nearly two years.
Mrs Clinton acknowledged deep scepticism about the talks on both sides but said she was "absolutely convinced" that Israeli Prime Minister Benjamin Netanyahu and Palestinian President Mahmoud Abbas could succeed.
"It's clear to me that the forces of growth and positive energy are in a conflict with the forces of destruction and negativity," she said.
Mrs Clinton's remarks came a day after the US Middle East peace envoy, former Senator George Mitchell, described the initial talks as "constructive".
President Barack Obama, who opened the negotiations on Wednesday with bilateral meetings with Mr Abbas and Mr Netanyahu and a dinner for them and the Egyptian and Jordanian leaders, has said the goal is a permanent settlement that ends the Israeli occupation of territory captured in 1967, and an independent, democratic Palestinian state existing peacefully beside Israel.