Imam of planned NYC Islamic centre 'to reveal backers'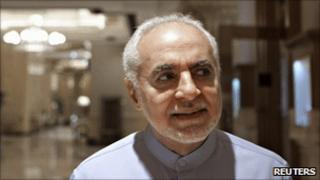 The imam of a Islamic centre planned near New York's Ground Zero has vowed to identify the project's financial backers.
Feisal Abdul Rauf said he was "struck" by the attention to the project, which has prompted controversy in the US.
Writing in the New York Times, he said the cultural centre would be a place of "unification and healing".
Mr Rauf, back from a two-week tour of the Middle East, was responding to some who charge it is funded by extremists.
Opponents want the centre to be moved further from the site where more than 2,700 people were killed in the September 11 terror attacks.
Correspondents say the row over the project has become a conduit for a wider debate about the role of Islam in America.
'Awed'
President Barack Obama and New York City Mayor Michael Bloomberg have strongly backed the developers' right to put the 13-storey building, tentatively called the Cordoba House, at a site two blocks from the former World Trade Center.
In the article in the New York Times, Mr Rauf said he was "awed" by the reaction to the plans, but pledged to proceed.
He said the centre would include a swimming pool, classrooms, play area for children, a memorial to the victims of the 9/11 attacks, and prayer spaces for Muslims, Christians, Jews and others.
"I am very sensitive to the feelings of the families of victims of 9/11, as are my fellow leaders of many faiths," he said.
"We will accordingly seek the support of those families, and the support of our vibrant neighborhood."
He defended the development, saying it would undermine efforts by "anti-American radicals" to recruit young Muslims by claiming the US persecutes their relgion.
Mr Rauf had just returned from an outreach trip in predominantly Muslim countries funded by the US state department.