What can Obama learn from DC's mayor?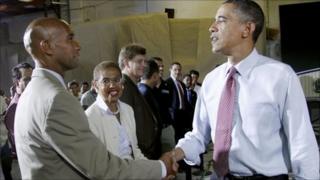 Not too long ago, Washington DC Mayor Adrian Fenty was considered a rising star, a local equivalent to Barack Obama, celebrated as one of America's most effective mayors.
On Tuesday, he was beaten in the District of Columbia's Democratic primary, his brief mayoral career aborted.
What happened? And can President Obama learn anything from the demise of the political ally he once ate with at DC landmark Ben's Chilli Bowl?
Mayor Adrian Fenty was swept to power in 2006 at age 35, after a traditional pavement-pounding campaign. He visited nearly every block in the District, and won all 146 of the city's electoral precincts.
Despite being home to some of the world's most powerful people and institutions, DC has been a chronically mismanaged place.
Mr Fenty was elected on an ambitious reform platform, which he aggressively pursued from the earliest days of his tenure, achieving significant successes in areas that have defied political remedy for decades.
Crime rates dropped. Police case closures rocketed upwards. Test scores in the US capital's notoriously under-performing school system increased, with maths scores leaping by 47%.
Mr Fenty's urban planning projects have been hailed as "visionary". Parks, schools and libraries have been renovated while bike lanes and dog parks have cropped up across the city.
For most politicians, Mr Fenty's record of success would be an outstanding one. But for DC residents, that didn't much matter.
'The Jerk'
Polls indicate that DC residents were largely happy with the direction of the city.
But in the end, personality was the key to this election, and DC decided that it did not much care for Mr Fenty's.
He was called petty after refusing to give tickets to a baseball game to council members, and accused of cronyism after a friend was awarded millions in city contracts despite not being particularly well qualified.
His hard-charging, uncompromising schools chancellor Michelle Rhee became a lightening rod, even after winning plaudits nationwide for closing bad schools and firing poorly performing teachers.
In some ways, the election was a referendum on her polarising policies.
But mostly, Mr Fenty was seen as arrogant and brash, eschewing consultation in his dogged drive to change the city. He gained a reputation for being rude and mercurial with staff and associates.
As DC's affluent precincts prospered, the poorer black community felt left behind. Resentment among them simmered as Mr Fenty hobnobbed with Mr Obama and Michael Bloomberg.
Although he won the endorsement of three of DC's major newspapers - including the Washington Post - each one acknowledged that his personality had flaws.
The Washington City Paper entitled its endorsement "the jerk DC needs".
His rival for the Democratic nomination, City Council chairman Vincent Gray, is a marked contrast - an amiable, cautious politician whose careful footprint has alienated almost no-one.
Mr Gray has made little effort to distinguish himself from Mr Fenty in policy terms. Instead he focused on style, committing to a more inclusive, gentler way of governing.
For those Gray supporters not won over by promises of nice government, the simple fact that he is not the abrasive Mr Fenty seems to have been enough.
This may come as good news to Mr Obama. Polls indicate that he is still personally well-liked across the country, despite widespread discontent with his policies.
But Mr Fenty's downfall may hold other lessons for Mr Obama.
Taking support for granted
As his time in the mayor's office wore on, Mr Fenty appeared increasingly disconnected and aloof - an adjective critics have applied to Mr Obama at times.
Mr Fenty, who once joked in a campaign advert that he had worn holes in his socks from walking the streets talking to voters, became seen as inaccessible.
In pushing forward a reform agenda that including firing teachers and city staffers, he aggravated community organisations that once supported him.
But the firings were perhaps less irritating than Mr Fenty's perceived unilateral manner of carrying them out.
"He acted as if community organisations didn't exist," says Professor Lorenzo Morris, who teaches politics at DC's Howard University.
Mr Morris warns that Mr Obama could feel a similar backlash from community organisations unless he incorporates them more thoughtfully into his administration.
Mr Fenty's experience may have particular resonance for Mr Obama because it proved that the black community - whose votes were critical to Mr Obama's success in 2008 - won't stick by black leaders if they don't feel that their voices are important, and their ideas are being heeded.
"Obama cannot necessarily take his 'own people' for granted," says Professor John Brittain from the University of the District of Columbia, who thinks Mr Obama's core supporters wonder if they have been cast aside in favour of banks and health insurance companies.
Apologise early
Mr Fenty had long dismissed opinion polls, especially those that pointed to perceived character flaws. But at some point the alarming realisation that his attitude had become a serious handicap sunk in.
He embarked on an apology tour of sorts, admitting to having made mistakes and vowing to play nice.
But Alan Suderman, who covers DC politics for the Washington City Paper, argues it was too little, too late. By the time Mr Fenty apologised it just looked like a campaign tactic, not genuine contrition.
Therein lies a lesson for other politicians, Mr Obama included: if you're going to apologise for something - policy- or behaviour-related - do it early or be called a phoney.
According to Mr Morris, one of Mr Fenty's critical mistakes was failing adequately to explain complex and controversial policies.
Critics have levelled similar accusations at President Obama, particularly in relation to healthcare reform.
Mr Fenty's experience in DC suggests that even if voters benefit from a policy - and even if it is lauded by public policy wonks - it won't necessarily help a re-election bid if people don't fully understand or feel it.
In DC, for example, although the school system has improved significantly, DC schools still perform well below the national median.
"When your school still performs poorly, it's hard to feel the improvements," says Mr Morris.
Perhaps more importantly, policies are felt in profoundly different ways across a city.
The vast differences in wealth in DC - which form a sort of microcosm of America's national wealth disparity - mean policies impact the community differently.
In one of DC's poorer wards, the median income is $18,000. Across town, near the grand mansions of upper Georgetown, the median income is closer to $180,000.
"Inequality means that unless a special effort is made, policy successes are not felt in the poorer communities," Mr Morris says.
Mr Fenty, it appears, learned that lesson the hard way. Poorer wards deserted him for Mr Gray in large numbers.
Mr Fenty is one of the few politicians to have asked openly for an endorsement from President Obama.
He didn't get one. And if he had, it probably would not have changed the result.
But for Mr Obama, perhaps picking Mr Fenty's brain about what went wrong in his once stellar political career might pay dividends. Maybe over a bowl of Ben's chilli.